New Orleans Mayor LaToya Cantrell said Friday that the city won't be canceling its 2023 Mardi Gras celebration after suggesting that a police shortage could mean that the event would have to be called off.
According to The Times-Picayune/The New Orleans Advocate, the mayor said during a town hall meeting on Thursday: "If you don't have adequate police, it could mean there will be no Mardi Gras. That's a fact."
"I don't want to cancel no Mardi Gras, no not at all," she said during the meeting. "But when it comes to jeopardizing the safety of the men and women who make that ultimate sacrifice and kiss their families when they leave every day and hope to come [home] at night or in the morning, they are the priority."
However, in a statement to Newsweek on Friday, when asked about her Thursday comments, Cantrell said: "We ARE NOT canceling Mardi Gras."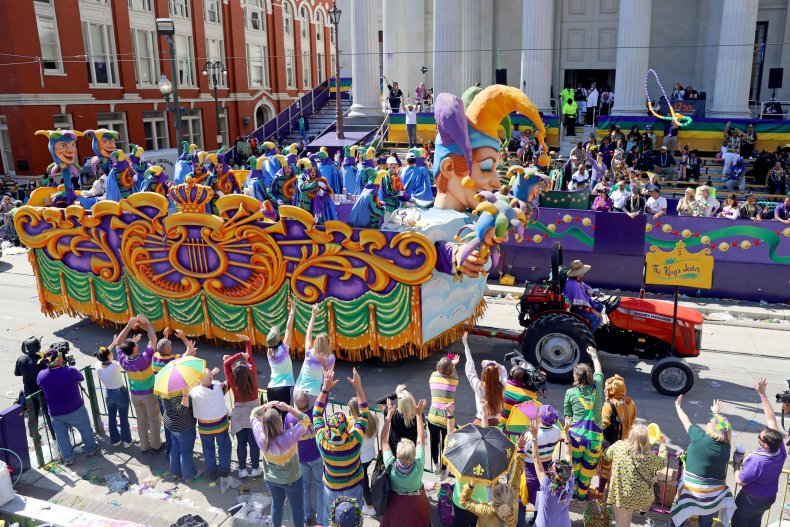 "New Orleans, like the rest of the nation, is experiencing a shortage of public safety personnel that includes police, fire, EMS—across the board—you name it," Cantrell told Newsweek. "However, we have taken aggressive steps to increase recruitment and retention initiatives, have enhanced technology, and built more efficient facilities as we have discussed over the last few weeks."
Cantrell said that she's heard from mayors across the country that factors including inflation, supply chains, and labor shortages "have created unforeseen difficulties that hamper our ability to attract candidates to these noble professions."
She added that New Orleans has invested almost $1 million "into promotional marketing and introduced enhanced equipment and facilities, including the $3.7 million firing range that my administration unveiled yesterday."
Next year, the city will also begin offering $5,000 cash bonuses to officers "according to their years on the force."
"We understand the challenges are real, but the City of New Orleans remains committed to delivering critical resources needed for our public safety agencies, while also continuing to safely host large-scale events that allow us to celebrate our beloved culture," Cantrell said.
In June, The Times-Picayune/The New Orleans Advocate reported that the city has struggled to recruit officers, and has been losing staff at a high rate since the COVID-19 pandemic began. As of that month, the city had hired 55 new officers since the beginning of 2021, but lost 227—there are now fewer than 1,000 officers on the force, which is the lowest number in "generations," according to the newspaper.
In a statement to Newsweek on Friday, when asked about Cantrell's Mardi Gras comments from Thursday, a spokesperson for the New Orleans Police Department said "now is not the time to panic."
"It is time to plan and explore all options. Last year, we shortened the parade routes slightly to account for fewer officers. We will also explore seeking assistance from other jurisdictions," the spokesperson, Gary Scheets, wrote in an email.
"The firm goal is to have Mardi Gras 2023. The Mayor, the City Council, local business leaders will all be working together to make our citizens and visitors can enjoy the good time they have come to know and love," Scheets added.
Cities Lower Standards to Recruit Officers
New Orleans isn't the only major city in the country that has seen police staffing issues in recent years. In March, Chicago lowered its standards for police hiring in an effort to boost the size of its force, waiving a college credit requirement for potential recruits. Philadelphia removed some similar college credit requirements in 2016, and New Orleans recently dropped its 60 hours of college credits requirement, now requiring only a high school diploma or GED.
At the end of last year, cities with the highest crime rates in the United States were reporting staffing shortages.
"I think what is a little bit different about it today is, we have a continuing recruitment—I'll call it a crisis. But at the same time, we have an attrition problem," Jim Burch, the president of the nonpartisan and nonprofit National Police Foundation (NPF), told Newsweek at the time.
In Austin, Texas, in October, local news station KVUE reported that a police department suggested a burglary victim should collect evidence on his own because of staffing shortages. The owner of Petticoat Fair Lingerie, Kirk Andrews, reported multiple burglaries, and was told to search for bullet casings and other evidence at his shop to help start a potential investigation.
"That to me is extremely frustrating," Andrews said.