Freed Russian Spy Maria Butina Offered Post in Russian Parliament's Foreign Affairs Committee
The Russian pro-gun activist who returned to Moscow last month after serving 18 months in a U.S. jail for an espionage conviction has been offered a post in her country's parliament.
Maria Butina was freed in October from a Florida prison for trying to infiltrate the National Rifle Association [NRA].
The Kremlin dismissed as a fabrication her conviction of conspiracy to act as an unregistered foreign agent in the U.S. and the accusation that she established "unofficial lines of communication with Americans having power and influence over U.S. politics."
On Monday, Russian agencies reported that Butina had been offered a post in the parliament's foreign affairs committee by its head Leonid Slutsky.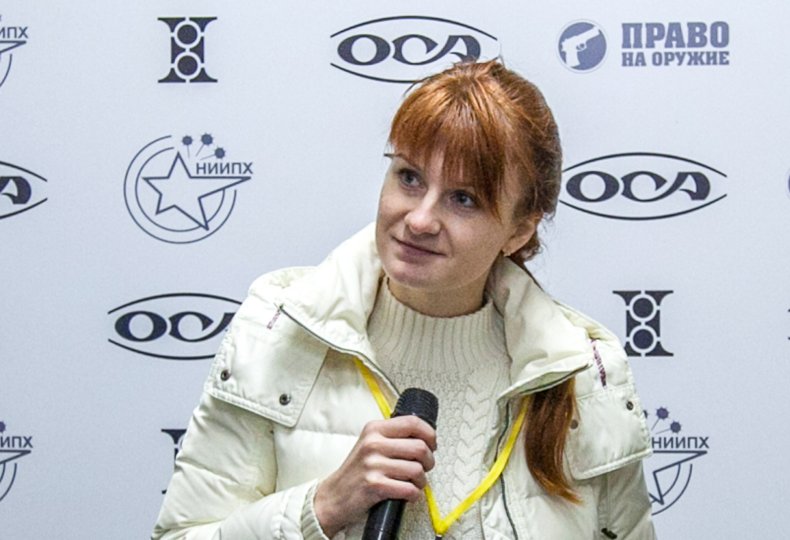 Slutsky is a controversial figure, having been accused by a number of journalists last year of sexual harassment in claims that the parliament's ethics commission dismissed.
State-run news agency RIA Novosti reported on Monday that Russia's human rights commissioner Tatyana Moskalkova had told Butina in a meeting, "I'm very glad that you are with us."
"I think this is a very good, interesting offer from a professional point of view," Moskalkova added.
Butina said she was grateful to Slutsky for defending her when she was in prison and also thanked the Russian president.
"I would I wanted to express my deep gratitude to Vladimir Putin for his repeated statements in my defense," Butina said in the meeting.
"I saw it, I know it, I really appreciate it. I am very proud that I was born and raised here and that I am a Russian citizen. I hope to benefit my homeland in the future."
The agency Tass reported that Moskalkova had also offered Butina a position to help defend the rights of Russian nationals abroad
"I invite you to work in our group to protect compatriots abroad. I am sure that together we can help those who run into difficulties overseas," Moskalkova said.
When Butina arrived at Moscow's Sheremetyevo airport in October, she told reporters she was "very very glad to return home" and thanked the foreign ministry and diplomats "who fought for me," adding that "Russians do not give up," the BBC reported.
Butina's case increased tensions between Moscow and Washington. Last month, the former Russian ambassador to Washington, D.C., Anatoly Antonov, said that Russians needed to be wary when visiting the U.S because there was a "Russophobic atmosphere" there.
Using the Butina case, and the estimated 100 Russians in American prisons as examples, he said Russians were unfairly targeted, telling the program Bolshaya Igra that any Russian citizen "should be extremely careful on any trip to the U.S."