Maria Sharapova: Russia Stands By Tennis Star After Doping Scandal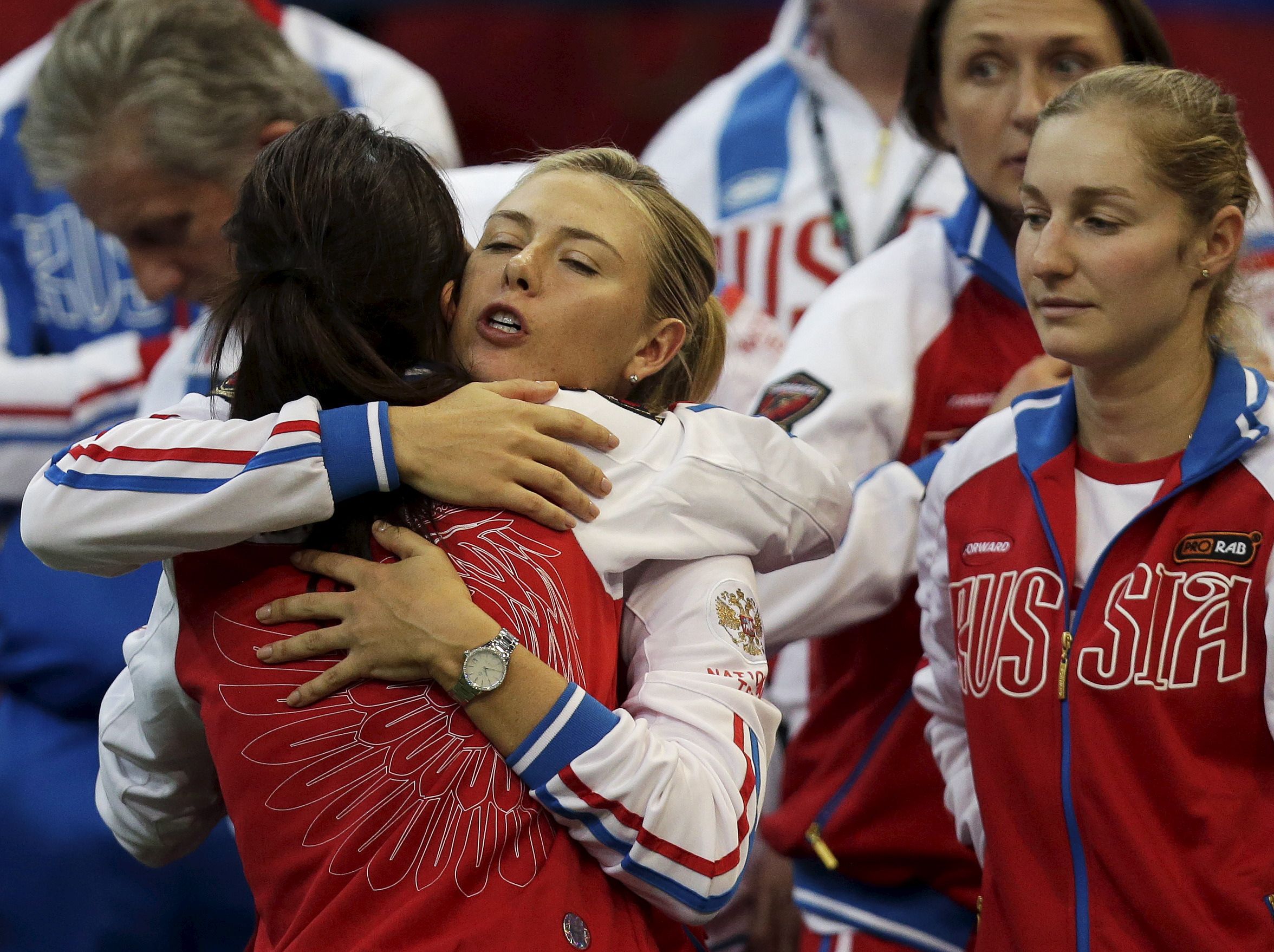 When the world's highest paid female athlete, Maria Sharapova, announced at the start of March that she had tested positive for doping, the sporting world recoiled. She admitted to taking meldonium - a substance which as of the start of 2016 was banned by sports authorities globally.
Her lucrative sponsorship deals with Porsche, Tag Heuer and Nike were scrapped, while tennis pros such as Rafael Nadal and Andy Murray called for her to be punished further. On Tuesday the U.N. suspended her role as goodwill ambassador.
In the country of her birth, however, her support appears not to have wavered.
The manufacturers of Russia's traditional soft drink made from fermented rye bread, Kvass, asked Masha, as Sharapova is affectionately called at home, to become the face of their brand.
Vladimir Mamatov, head of the Kirov-based company conceded the company lacks the funds of Porsche or Nike but said they would "wholeheartedly offer Maria Sharapova cooperation in any format acceptable for her," news site Life News reports. Last week Russia's Tinkoff bank made a similar offer to Sharapova in an announcement on Moscow's Govorit Moskva radio station.
In fact sweet makers in St Petersburg even released a new line of lollipops this week with Sharapova's face on them and the tagline "100 percent Sharapova, meldonium free". The company Rubis Cookies pledged their love for Sharapova and wrote on social media that "that is why we won't be like Nike or Porsche" because "Russians do not toss their own aside."
The Sharapova lollipop costs 50 roubles, which is roughly 70 U.S. cents and the company has pledged to donate half of all proceedings to supporting Sharapova.
It is not just Russian entrepreneurs that have clung to Sharapova. The tennis pro's admission of doping has triggered an outpour of adulation across the Russia airwaves, with the odd suggestion that she may have been duped into taking a banned substance also floating around.
A day after Sharapova's press conference the head coach of Russia's Olympic tennis team hailed the star as a "symbol of Russia" and urged Russia's tennis federation to "fight for her to the last" . He also claimed her suspension from play was a "stab in the back" for Russia but did not clarify whom he was blaming for that.
Two days later Russian state media RIA Novosti cited legal experts two days after Sharapova's press conference, suggesting her doctor's may be ones prosecuted for negligently letting her continue taking meldonium after it was banned.
Moscow's Moskovskiy Komsomolets paper, meanwhile, quoted Sharapova's fellow Russian players, Yekaterina Bychkova and Anna Chakvetadze who praised her decision to come clean and expressed hope she would play at the 2016 Olympic Games in Brazil.
On Monday Russia's scandalous musician and showman Stas Baretsky declared a protest against the decision to declare meldonium an illicit substance and accused the U.S. of conspiracy against Sharapova. Baretsky carried a blow up doll with U.S. President Barack Obama's face to the U.S. consulate in St Petersburg.
"When they turned on Masha Sharapova that was the final straw for me," he told onlookers on the street. "Masha Sharapova is a symbol of Russian sport, she's the embodiment of the Russian woman - strong, beautiful and mighty."
Baretsky then burst a can of Kvass with his mouth, saying that the U.S. might as well declare the soft drink an illicit substance too and then burst the blow up doll.
Sharapova faces a four year ban from tennis, which could effectively end the 28-year-old's career, however she hopes for a more lenient punishment.