Marijuana sales hit record numbers during the height of the COVID-19 pandemic, but those levels have fallen sharply in recent months as coronavirus infections in the U.S. have also decreased.
Marijuana Business Daily (also known as MJBizDaily) reported Thursday that many cannabis industry executives have seen the correlation between marijuana sales and COVID restrictions easing in the U.S. The executives noted that people had more idle time at home when bars and other businesses were shuttered in many areas, and some found themselves with extra income as well. Many of those people turned to cannabis products, and MJBizDaily found that year-over-year total sales increased 777 percent in 2020.
"The onset of 2021 was met with stimulus checks and many different programs to help support people, and this continued to help ensure that business stayed steady," Scot Lee, chief of operations at the cannabis company Theory Wellness, told MJBizDaily.
However, the cannabis industry has recently started coming down from that high. A report released earlier this month from the cannabis data analytics firm BDSA found 2022's sales to be off to a slow start after a relatively strong holiday season. Even weed-friendly California experienced a sales dip, with January sales falling almost 10 percent from December and by over 12 percent from the previous year, according to BDSA.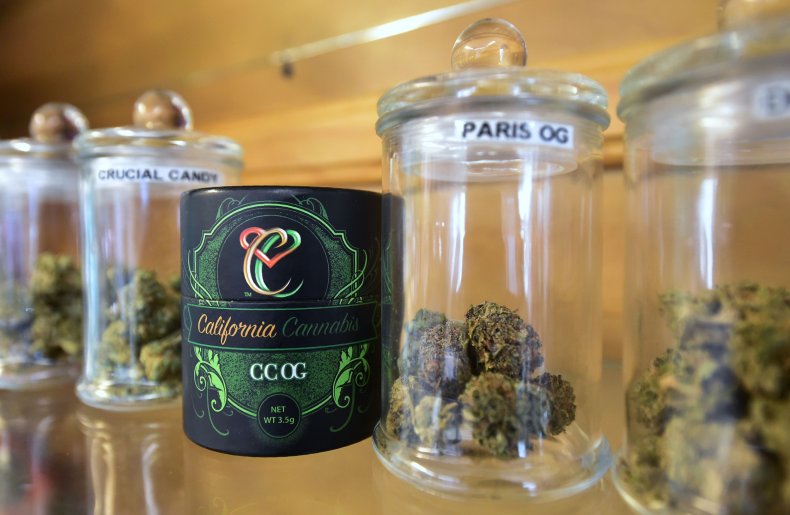 BDSA doesn't expect this trend to continue, though. The company predicts marijuana sales could reach past $28 billion in 2022 with more states allowing recreational use, adding that California will likely continue holding on to the top spot in the domestic market.
"Though most legal cannabis markets saw sales soften in the second half of 2021, the global cannabis market is expected to see brisk growth in 2022, driven by strong sales in new and emerging markets in the U.S., steady growth in Canada and international markets led by Mexico and Germany," BDSA chief commercial officer Jessica Lukas said in a statement.
Another state that exemplifies the precipitous sales drop for cannabis is Illinois. Recreational sales of marijuana began in January of 2020 for the state, and it sold a record $137 million worth of recreational cannabis products last December. It then hit an issue of supply not meeting the demands of consumers, resulting in high prices that possibly caused some to purchase non-legal marijuana. In January, Illinois' licensed marijuana shops made $117 million in sales in January and slightly less than $114 million in February.
Cannabis consultant Andy Seeger told local NBC affiliate WMAQ-TV that high taxes in Illinois, as well as limits on who can cultivate marijuana plants, has caused prices to soar.
"Right now it's just a captive market in which the ability to grow...is just really monopolized," Seeger told the station.
There's a belief that a greater harvest in 2022 could drive prices down in Illinois after state officials issued 40 craft cultivation licenses last year, and WMAQ-TV reported that 60 more are expected to be given out in 2022.
However, the same economic factors hitting other business sectors also affect the cannabis industry. MJBizaily reported one CEO of a cannabis company saying he's seen sales fall as inflation and gasoline prices rose.