Top Trump Health Officials Warn Against Marijuana Legalization: 'This Ain't Your Mother's Marijuana'
United States Surgeon General Jerome Adams and Health and Human Services Secretary Alex Azar, both Trump-appointed officials with pharmaceutical company ties, issued a national warning Thursday about marijuana legalization and increasing potency.
The two top Trump administration health officials warned young Americans and pregnant women that marijuana is increasingly a "dangerous drug" despite two-thirds of U.S. states having legalized weed either recreationally or for medicinal use in recent years. Adams and Azar's joint conference Thursday morning cautioned against the "false perception that marijuana is not as harmful as other drugs," and announced President Donald Trump donated $100,000 of his salary to fund a digital media campaign aimed at warning adolescents of the harmful effects of marijuana.
"This ain't your mother's marijuana," Adams said, highlighting research showing the strength of weed and the concentration of its active ingredient, THC, has increased three-fold in recent decades.
The Trump-appointed health officials reiterated their fears that the legalization of marijuana and cannabis in states across the U.S. is providing teenagers and soon-to-be mothers a false sense of safety.
"Marijuana's increasingly widespread availability in multiple and highly potent forms, coupled with a false and dangerous perception of safety among youth, merits a nationwide call to action," reads the Surgeon General's "Marijuana Use & the Developing Brain" advisory. "The legalization movement may be impacting youth perception of harm from marijuana."
The Surgeon General advisory cites several academic studies which point to higher concentrations of THC in dabs, waxes and other recreational marijuana products sold in states such as Colorado, Washington, California and Massachusetts.
Both Adams and Azar said they're in support of local, state and federal research on marijuana but those claims remain dubious given there are currently no FDA or medically approved uses for young people. Additionally, marijuana is still listed alongside heroin, cocaine and ecstasy as a Schedule 1 illegal narcotic by federal agencies.
Adams and Azar warned young people and parents about psychosis, paranoia, anxiety and other harmful effects they tied to marijuana usage.
"As indicated by President Trump's generous donation of his salary to support this advisory, the Trump Administration is committed to fighting substance abuse of all kinds, and that means continuing research, education and prevention efforts around the risks of marijuana use."
Trump administration health officials have close ties to pharmaceutical companies, including both Azar and Adams. Azar is the former president of the U.S. division of Indianapolis-based Eli Lilly and Company, one of the country's largest drug corporations. As Newsweek previously reported, Adams pursued employment at the pharmaceutical giant after receiving the Lilly Scholarship while attending the Indiana University School of Medicine.
The Trump administration has long been an opponent of marijuana legalization efforts on both the medicinal and recreational levels. In January 2018, then-Attorney General Jeff Sessions issued a Justice Department memo directing law enforcement to "return to the rule of law" and begin cracking down on the cultivation, sale or consumption of all marijuana-related products.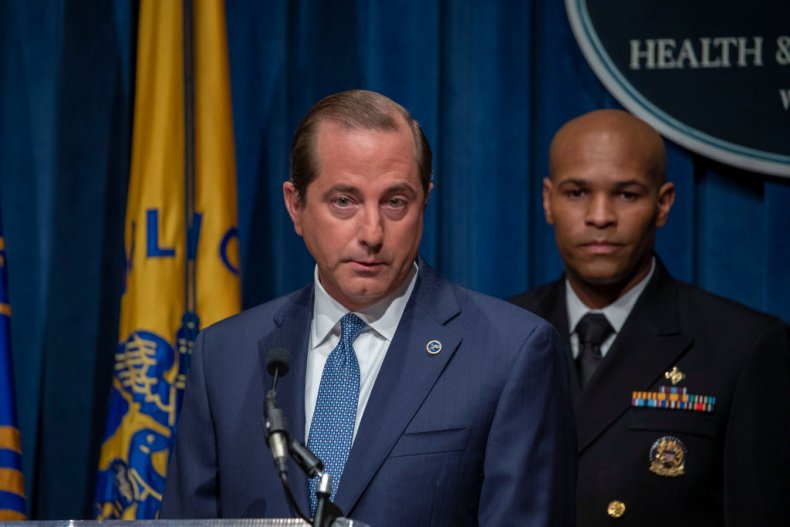 "There is a false perception that marijuana is not as harmful as other drugs. I want to be very clear – no amount of marijuana use during pregnancy or adolescence is known to be safe," Adams said Thursday.
In April, Attorney General William Barr said he favors making marijuana illegal across all 50 states using one uniform federal law.