Marilyn Manson Confirms He is Continuing To Work With Kanye West
Marilyn Manson is officially continuing to work with Kanye West.
The shock rocker was reported to be working on the rapper's Donda 2 project after he featured on the track "Jail Pt 2" and appeared at one of West's album listening parties in Chicago last year.
Representatives for the musician, real name Brian Warner, confirmed that he is continuing to work creatively with West, who has legally changed his name to Ye.
"Manson is continuing his creative collaboration with Ye," a spokesperson told Newsweek.
West's collaborator and album producer Digital Nas has said that Manson is now a regular fixture in the studio where they are working on the record.
"Every day I go to the studio, Marilyn is in there working on Donda 2," Digital Nas told Rolling Stone.
"He doesn't want Marilyn to play rap beats," Nas explained. "He wants Marilyn to play what he makes, and then Ye will take parts of that and sample parts of that and use parts of that, like he did [generally when making] 'Yeezus.'
"He has some producers from 'Yeezus' working on Donda 2 this time around, [as well as] Marilyn, me, [and] a bunch of producers from Donda 1."
The "Praise God" rapper faced criticism for including Manson on Donda as the singer has been accused of rape, physical assault and more from multiple women.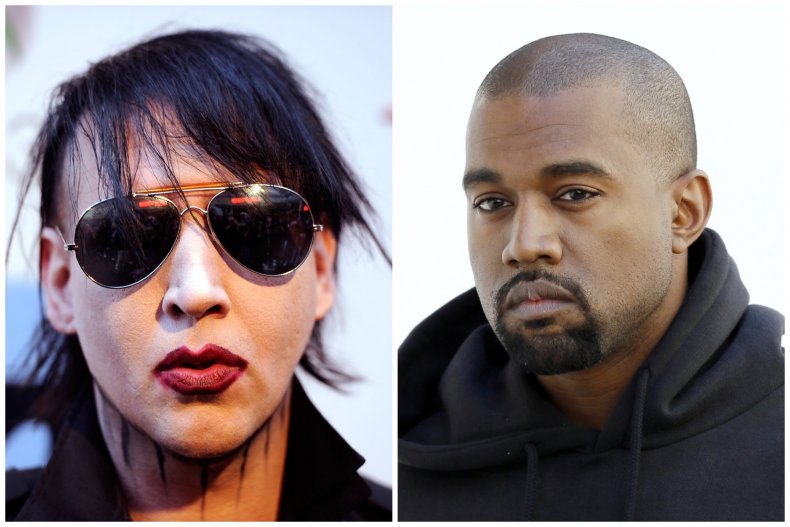 His ex-girlfriend Evan Rachel Wood is one of the women who has accused Manson of "horrific abuse" after she became involved with him when she was 18 and he was 38, between the years of 2006 to 2011.
After Wood's public accusation, other people came forward with their own allegations against the musician.
Game of Thrones star Esme Bianco is one of those women. She is suing Manson for alleged sexual assault, physical abuse and human trafficking.
Bianca described Manson as a "monster who almost destroyed me and almost destroyed so many women."
She told The Cut: "I basically felt like a prisoner. I came and went at his pleasure. Who I spoke to was completely controlled by him. I called my family hiding in the closet."
Manson has denied all allegations against him calling them "horrible distortions of reality."
He wrote in a statement on Instagram: "My intimate relationships have always been entirely consensual with like-minded partners. Regardless of how—and why—others are now choosing to misrepresent the past, that is the truth."
The 53-year-old is facing up to four lawsuits accusing him of sexual assault, battery and harassment. An investigation into allegations of domestic violence incidents by the Los Angeles County sheriff's department is also underway and his home was raided in November 2021.
The "Tainted Love" hitmaker was dropped by his record label, Loma Vista, after allegations were made public in 2020.