'Patriot' Russian Dissenter Marina Ovsyannikova Declines French Asylum
Marina Ovsyannikova, a Russian journalist who protested Russia's war in Ukraine during a live broadcast on state-run television, has declined an asylum offer.
The news comes days after Ovsyannikova held up a sign on television urging Russians not to believe propaganda, an action that could result in years of jail time in Russia.
During a Monday broadcast on Russia's Channel 1, her employer, Ovsyannikova displayed a sign that stated: "Stop the war. Don't believe the propaganda. They're lying to you here."
In an interview with French television channel FRANCE24 on Thursday, Ovsyannikova thanked French President Emmanuel Macron for offering to bring her to France and give her political asylum, but she declined the offer.
"Unfortunately, I won't be able to accept this kind offer because I am a patriot, I want to stay and live in my own country with my family, all my friends are here, and I want to stay in Russia," Ovsyannikova said.
Following her protest, Ovsyannikova was questioned for 14 hours and fined 30,000 rubles (about $290) for an anti-war video message she recorded.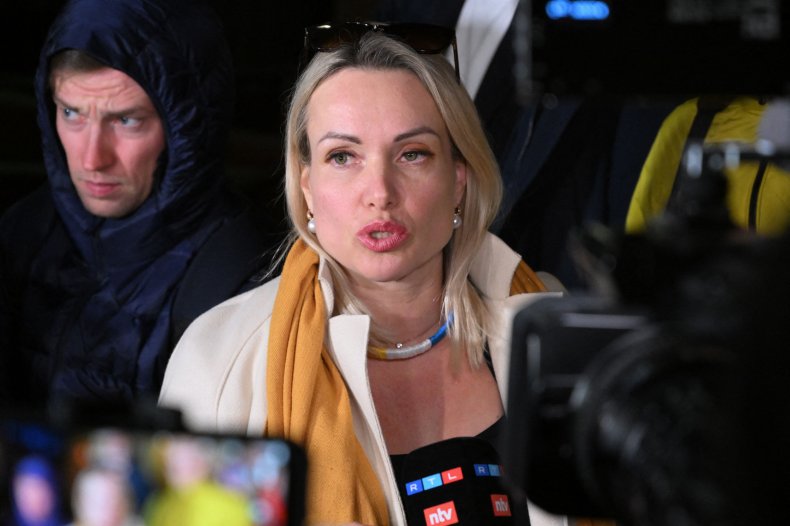 Ovsyannikova told FRANCE24 that the fine "is not the end of [the] story because I have not yet been fined or prosecuted for my appearance on the TV news broadcast. So I think there may be further prosecutions coming."
Ovsyannikova noted that she "runs the risk" of a 15-year prison sentence. Russia's Parliament passed laws following Russia's invasion of Ukraine that ban the media from using the words "invasion" or "assault" to describe the conflict in Ukraine and prohibit "discrediting" the Russian military.
FRANCE24 Marc Perelman host asked Ovsyannikova if there was "a moment" that triggered her dissent. "Because one could say you've accepted this for years. Why not anymore?"
"As I've said, it is the war in Ukraine that really is the point of no return. This was the trigger. People never thought such a thing could happen," Ovsyannikova responded. "On February 24, I stopped sleeping. I lost all sense of direction in my life…and I understood that I couldn't remain silent."
Ovsyannikova, who has two children, said her young son thinks that his mother has "destroyed" their family life following her protest.
"But I explained to him that in life, you have to react and make decisions that are often complicated. And that above all, we must bring an end to this fratricidal war. We must stop this madness before we reach something like nuclear war. So I think when my son is a bit older, I think he will be able to understand my gesture," she said.