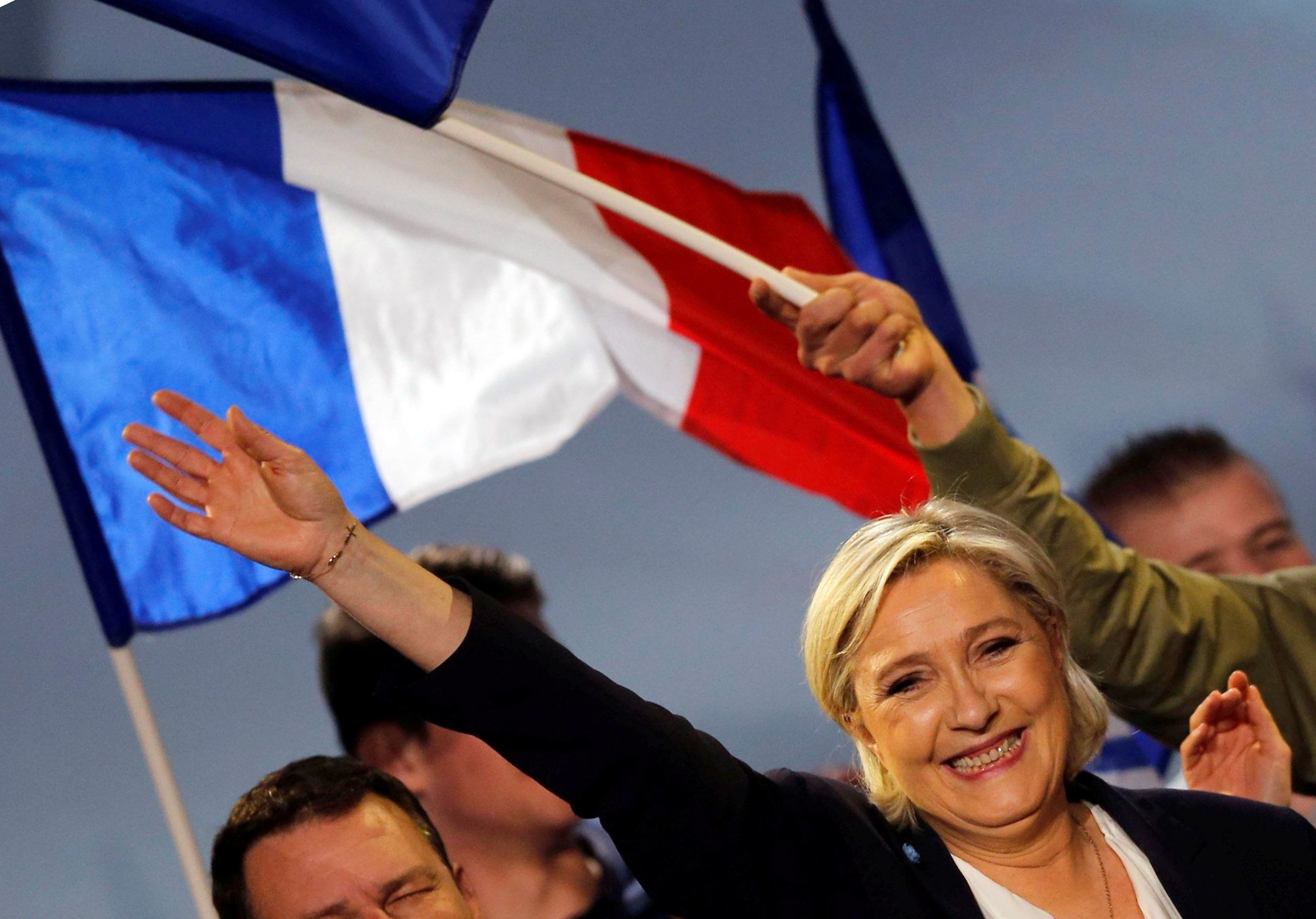 Far-right French presidential candidate Marine Le Pen used a speech in Nice on Friday to spell out her vision for the European Union. "The EU is grey, like the color of the Brussels technocrats' suits," she cried. "I want to give it colors because my Europe is happy, diverse, colorful, it has the face of its peoples."
But in Brussels and across the continent, pro-European politicians know that Le Pen's Europe wouldn't be at all happy for them. Victory in the May 7 poll for Le Pen—unlikely but still possible—would represent an existential crisis for the EU.
Anand Menon, professor of European politics and foreign affairs at King's College London, says Le Pen's victory would make Britain's exit from the EU look insignificant. Brexit, Menon says, "will have an economic impact on the other member states — and it's had a PR impact on European integration. But aside from that, what other impact has it had? Whereas this — this goes to the fundamentals."
Read more: Why the French election is exciting even if you're not French
But why exactly would Le Pen leading France be such a problem for Europe?
France is a founding member of the EU and is traditionally, along with Germany, one of the bloc's two political heavyweights. The French economy, along with Germany and U.K., is in the top three largest economies in Europe. If France ever began to seriously disobey fundamental EU rules, it would not only have huge symbolic power, but bring several other damaging real-world effects.
So Le Pen's extreme Euroskepticism is troubling for other EU politicians. She has pledged to take France out of the passport-free Schengen travel area and the euro currency, and to hold a referendum on leaving the EU. She has threatened to tear up EU competition rules—so that public bodies can "buy French" on as many contracts as possible—and usher in a "multi-polar" foreign policy that includes closer ties with Russia, currently under economic sanctions from the bloc. Her pick for Prime Minister, the right-wing lawmaker Nicolas Dupont-Aignan who was among Le Pen's rivals in the election's first round, is also anti-EU.
"The EU is a consensus-based system," says Menon, "If, for the first time, a large member state turned round and said 'you know what? Screw you! We're not doing that,' that is potentially fatal to the European Union."
The European Commission, which enforces EU rules, has had a tough enough time handling several recent disputes with member states on a far smaller scale. It has spent over a year clashing with Poland's populist government over its alleged manipulation of the country's top court, and clashings with Hungary over its refusal to accept a quota system for refugees.
Both are relatively minor issues in smaller, politically weaker, member states but neither has come to any decisive resolution. That doesn't give anyone much confidence about how a potential battle with Le Pen's France would turn out.
In particular, there are fears about what Le Pen would do to the already troubled euro currency. When the results of the election's first round were announced on April 23—pitting Le Pen against the pro-EU liberal centrist Emmanuel Macron in the second round runoff—the euro soared, rising 2 percent to its highest point since mid-November.
The reason for the bounce was that investors overwhelmingly think a Macron victory is near-certain, with opinion surveys putting him around 20 percent ahead of Marine Le Pen, according to a Bloomberg poll of polls. But, as Menon points out, that means a shock Le Pen victory could send the currency into freefall before she's even done anything.
If France were to vote to leave the euro under Le Pen, it could spell an end to the currency. But even if that didn't happen, a Le Pen-appointed finance minister would form part of the eurogroup that governs it and could make the EU utterly dysfunctional.
Brussels authorities are reluctant to discuss the risk Le Pen poses. A spokesman for the EU's Economic and Financial Affairs Commissioner Pierre Moscovici—himself a former French finance minister—declined an interview with Newsweek, saying Moscovici had "on many occasions ruled out" even the possibility of a Le Pen victory. But in a speech this week, Moscovici warned that a euro exit would have chaotic results, ranging from harsh restrictions on cash withdrawals at French banks to immediate austerity policies.
The choice facing France is stark. A Macron victory would bring a strongly pro-EU president to the Élysée. But Le Pen is far from finished, and the EU and its defenders must plan for the worst—or risk facing the shock of their political lives.