Marine Veteran Says He Was Seriously Injured After LAPD Fire Rubber Bullets at Him During George Floyd Protest
A Marine veteran says he suffered serious injuries after police shot him with rubber bullets while he was peacefully protesting in Los Angeles over the weekend.
CJ Montano told KABC-TV that he was at a demonstration in the city's Fairfax district on Saturday that escalated with police arrived.
Montano said he had attempted to talk with police and offered to help calm down protesters who threw bottles and other objects at officers.
But he said police fired multiple rubber bullets that hit him in the stomach, chest, and head while he had his hands in the air.
He posted a video on his social media accounts taken in hospital that showed the head injury he sustained.
"Cops shot me in the head at the #LosAngelesProtest with rubber bullets while I had my hands up in the air," he wrote alongside the video, which has been viewed more than two million times. "My brain is now bleeding and getting worse. Keep fighting."
He has since been released from the hospital, he said on social media on Tuesday.
Montano also shared videos and pictures that he said showed him taking a knee and protesting peacefully shortly before he was injured.
"This is about 30 minutes or more before I got shot in the face by police," he wrote alongside them on Instagram.
"I am clearly documented ON A KNEE, filming the police. Police are trying to MURDER innocent peaceful protesters the same way they MURDER innocent black people."
Montano told the local news station that because he's on blood thinners, he started "leaking blood pretty bad" but a man he didn't know carried him to safety a block away after he was injured.
He added that he wasn't trying to "bring a bad name to police officers" but wanted to "bring good to the people that deserve it."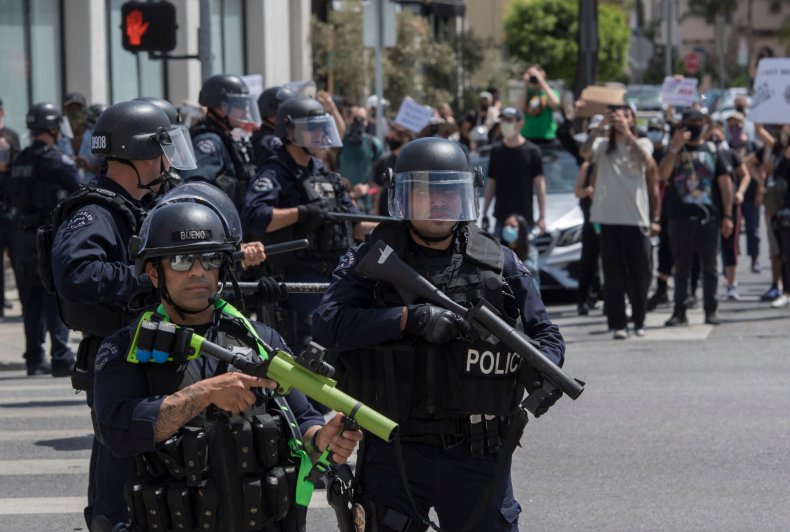 The National Guard was sent to quell the violence that erupted in Los Angeles over the weekend amid protests over the death of George Floyd, a black man, in Minneapolis police custody.
On Saturday, demonstrators clashed with officers, who used batons and fired rubber bullets to hold them back.
Numerous businesses, including stores at the upscale Grove shopping mall, were looted and several police vehicles were torched as the day went on, prompting Mayor Eric Garcetti to impose a rare citywide curfew to curb the violence.
The protests against police brutality started early last week in Minneapolis, where Floyd died on May 25 after a white police officer was seen in a video kneeling on his neck for several minutes as he repeatedly gasped that he couldn't breathe.
They've since spread to more than 100 cities across the U.S. and abroad.
Derek Chauvin, the officer filmed pinning Floyd down, and three others involved in his death have been fired. Chauvin on Friday was charged with third-degree murder and manslaughter.
An attorney representing Floyd's family has said Chauvin should be charged with first-degree murder and that the other three officers also need to be charged.
Montano and the Marine Corps have been contacted for comment. The Los Angeles Police Department declined to comment.
This article has been updated after a response from the LAPD.