Leak At Bombed Mariupol Steel Plant Risks Environmental Catastrophe—Ukraine
Officials in Ukraine have warned that the continued attacks on the Azovstal steel plant could lead to an "environmental catastrophe" including the "complete extinction" of life in the Sea of ​​Azov.
Russian troops have been targeting the Azovstal steel plant in Mariupol with shelling for weeks, with Ukraine troops holed up inside.
In a statement posted on Telegram on Wednesday, the Mariupol City Council said that a leak from the plant could result in thousands of tons of concentrated hydrogen sulfide solution ending up in the surrounding waters.
"Leakage of this fluid will completely kill the flora and fauna of the Sea of ​​Azov. Then dangerous substances can get into the Black and Mediterranean Seas," the statement said.
Mariupol Mayor Vadym Boychenko is now calling for international experts and officials from the United Nations to be allowed to study the situation at the plant in order to prevent a "world-class environmental catastrophe."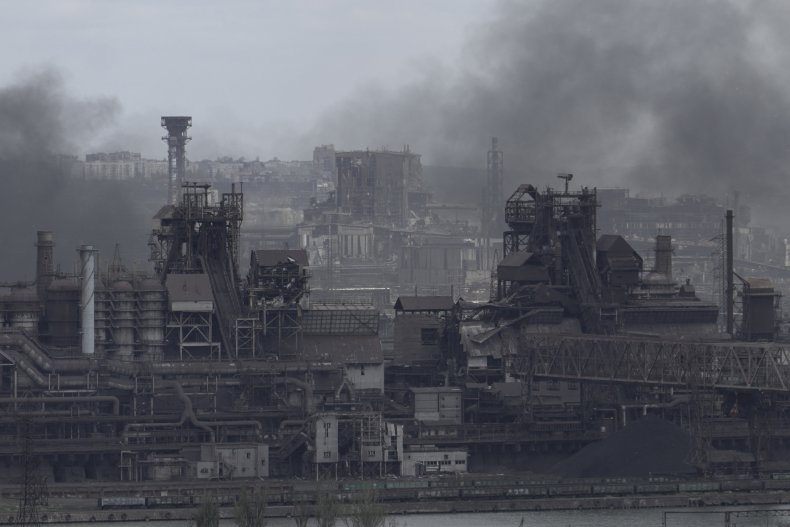 This week, Russia claimed 265 Ukrainian fighters of the Azov Battalion, a unit of the National Guard of Ukraine which has been holed up in the Mariupol plant, surrendered.
The surrender is part of an evacuation process agreed to by Ukrainian authorities with the assistance of the United Nations and other agencies.
Russian officials said of those who surrendered from the under-fire plant, at least 51 were seriously wounded.
"All those in need of medical care were sent for treatment to a hospital in the city of Novoazovsk, Donetsk People's Republic," Russia's Ministry of Defense said.
In a statement posted online on Monday, Ukrainian President Volodymyr Zelensky praised the bravery of the fighters who have spent weeks barricaded in the Azovstal steel plant, adding that Ukrainian authorities had worked with the International Red Cross to help secure the soldiers' evacuation.
"I want to emphasize that Ukraine needs Ukrainian heroes alive. This is our principle. I think that every adequate person will understand these words," Zelensky said.
One unidentified Ukrainian fighter trapped in Mariupol's Azovstal steel plant previously claimed that some of those injured had lost limbs as a result of the fighting.
"They are dying in large numbers because we can't provide medical care. There are simply no medicines. Those with severe wounds...it is almost impossible to save them," the fighter told Ukrainian television on Monday.
Ukrainian civilians, including women and children, were previously taking shelter within the plant until they were safely evacuated by Ukrainian officials and the U.N.'s humanitarian agency.
It is unclear how long it will take to evacuate the remaining fighters from the plant.
Newsweek reached out to Ukraine's Foreign Ministry for comment.