Marjorie Taylor Greene Reacts to Alex Jones Verdict: 'Free Speech is Dead'
Georgia Representative Marjorie Taylor Greene has defended right-wing conspiracy theorist and InfoWars host Alex Jones and proclaimed free speech is dead, following a $1 billion settlement.
On Wednesday, Jones was ordered to pay damages to eight families of victims of the 2012 Sandy Hook school shooting. The shooting resulted in 20 first-graders and six school administrators being killed as well as an FBI agent who responded to the scene.
Jones is facing up to $965 million in damages, in addition to attorneys' fees and the more than $50 million he was ordered to pay at a separate trial in August.
Taking to Twitter on Wednesday, Greene shared a report by the right-wing publication Revolver News that argued "the war against Alex Jones is a war against us all".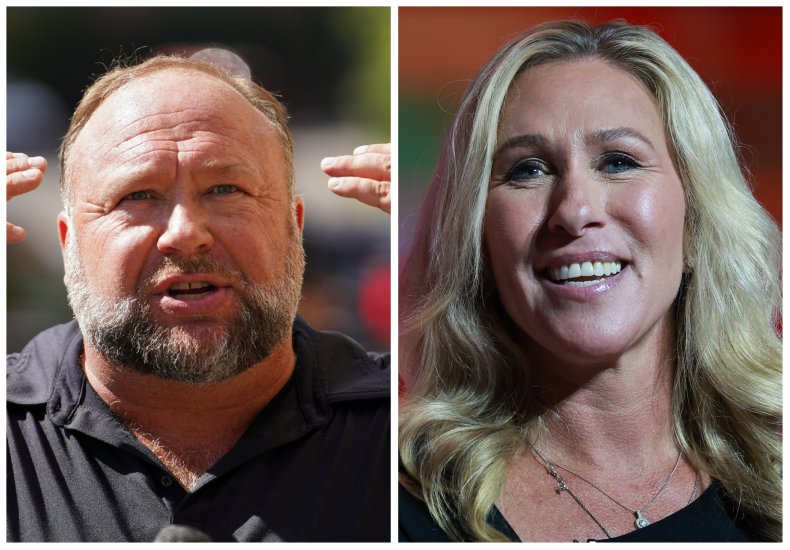 She also continued to argue that free speech was dead and complained about people being cancelled.
"No matter what you think of Alex Jones, all he did was speak words," she wrote in a tweet.
"He was not the one who pulled the trigger. Were his words wrong and did he apologize? Yes.
"That's what freedom of speech is. Freedom to speak words. Political persecution must end."
"Free speech is dead. It has been killed by the same people who claim they're defending democracy," Greene tweeted alongside a quote by the 16th U.S. President, Abraham Lincoln.
"The only speech allowed is approved speech, which means free speech is dead. This is the first casualty of the political war against the people."
She also added: "Pornography was legalized as an expression of free speech no matter how many people disapproved.
"Now you can't speak against Covid vax, the 2020 election, or the left's protected groups/issues without being canceled. If only some approved speech is allowed, free speech is dead."
Despite the $1 billion settlement decision, Jones is unlikely to pay it in its entirety. Although the net worth of Jones is not entirely clear, he likely does not have the funds to pay $1 billion.
Bernard Pettingill, a forensic economist who testified during the Texas trial, estimated that Jones likely had between $135 million and $270 million, when combining his personal wealth and money from his media company Free Speech Systems.
"It's highly doubtful that the plaintiffs will recover the full amount of this nearly $1 billion judgment," attorney Joseph H. Low IV said in a statement obtained by Newsweek.
"For one thing, I don't think Jones has that kind of cash. It will be an exercise in holding him accountable and making him feel some pain. The plaintiffs will accomplish that, it just won't happen overnight."
One of the ways Jones could successfully avoid paying a significant amount would be by winning an appeal of the verdict.
Jones lawyer Norm Pattis claimed after the verdict on Wednesday that "the fix was in" during the trial "from start to finish" and said that "we look very much forward to an appeal in this case."