Marjorie Taylor Greene Blasts COVID Rules, Says 'Not a Single School Has Closed' Due to Cancer
Republican Representative Marjorie Taylor Greene railed against coronavirus safety measures on Saturday and received backlash after comparing the spread of the infectious disease to cancer.
In a message on Twitter, the Georgia Republican wrote that the U.S. has never "shut down" and schools were not closed due to cancer-related deaths.
"Every single year more than 600,000 people in the US die from cancer. The country has never once shut down. Not a single school has closed. And every year, over 600,000 people, of all ages and all races will continue to die from cancer," Greene began.
"Since #COVID19 tracking has started, 780,000+ people have died in 22 mo in the US, but more than 1 million still died of cancer. More have died in 2021 from covid than 2020 in spite of Gov mandated widespread vaccines, mass public masking, & trillions spent," she added.
Greene then added that that masking and vaccines are "not stopping covid, that is just government control," and suggested that drugs such as Ivermectin – a parasitic medicine that has not been approved as a safe treatment for COVID-19 – are instead saving lives. The Food and Drug Administration (FDA) has warned that taking large doses of Ivermectin can be highly toxic and even lead to death.
"To care about others & save lives, our response to #COVID19 should be working towards ending obesity, promote covid treatments that are proven to work, & stop the politically driven mass hysteria. Allow people to choose natural immunity or vaccines, w/o discrimination," she wrote.
A number of Twitter users then responded to the Georgia congresswoman's statements, criticizing her for appearing to suggest that cancer is similarly contagious to COVID-19.
"Does it occur to you that cancer isn't a highly contagious disease, and therefore can't really be compared in the same context with Covid-19? Please support vaccinations to stop covid," wrote one user.
Another tweeter added: "I would say that I'm surprised you would compare cancer to a contagious disease but who am I kidding!"
@Grossberger101 asked Greene: "Remind me which cancer is transmissible by air...?"
Another user wrote: "I had cancer once. You know how many people I transmitted it to? Zero. Because cancer isn't contagious."
Greene has long been a fervent critic of COVID-19 safety measures and has pushed back against mandated vaccines and lockdowns. Last week, the Georgia Republican similarly recommended the use of Ivermectin and bashed travel bans linked to the newly discovered Omicron coronavirus variant.
"Ivermectin, the 'Wonder drug' from Japan, has a long safe history of saving lives especially among the poor all over the world," she claimed on Twitter. "If you had a loved one die from Covid, and they were not allowed to take Ivermectin or monoclonal antibodies, you might have a wrongful death suit in your hands."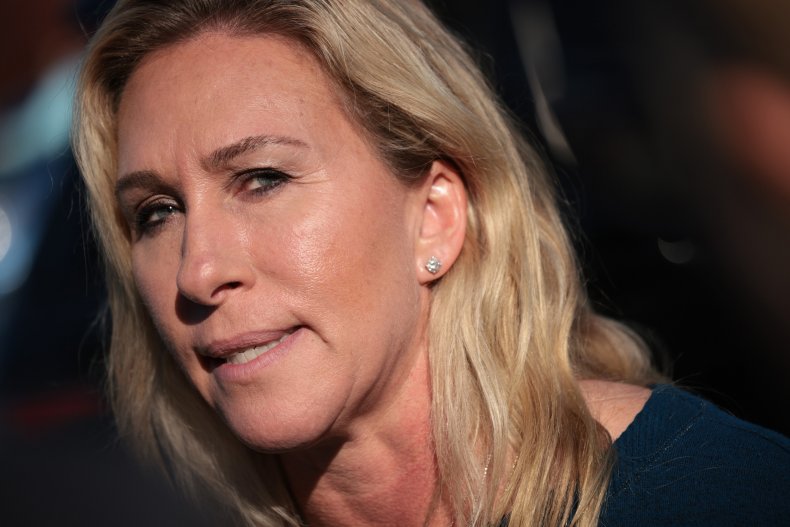 In an email to Newsweek from Greene's spokesperson last week, the congresswoman also shared her vaccination status and weighed in President Joe Biden's decision to restrict travel from South Africa, where the Omicron variant was first detected.
"I'm not vaccinated just like 94% of African people, and the Democrats hate it," she said.
"Watch how the travel ban lifts after 'talks' when the U.S. announces their 'life-saving' plan with global partners to provide free vaccines to South Africa, who has the lowest COVID death rate," she added.
Greene also tweeted on Saturday that fears and vaccination efforts surrounding Omicron—which experts said may be more transmissible than other versions of the virus or be capable of bypassing certain levels of immunity—are "irrational."
"Fast tracking vaccines for Omicron covid variant makes absolutely zero sense. For a virus that is reportedly basically the same as a cold. Irrational fear that makes money all in the name of the false god 'Science,'" she wrote.
Newsweek contacted a representative for Greene for additional comment but did not hear back in time for publication.