Marjorie Taylor Greene Calls For 'Trust The Science' In Anti-Trans Poster
Republican Representative Marjorie Taylor Greene of Georgia has sparked outrage after posting a video of herself hanging up an anti-trans poster outside of her office, declaring there are "two genders" and to "trust the science".
Greene controversially hung the sign directly opposite the office of Illinois Representative Marie Newman, who spoke in Congress this week in support of the Equality Act - a bill that would ban discrimination against people based on sexual orientation and gender identity.
"Our neighbor, Rep Marie Newman, wants to pass the so-called 'Equality' Act to destroy women's rights and religious freedoms," Greene wrote over Twitter alongside a clip of herself proudly pinning the sign to the wall. "Thought we'd put up ours so she can look at it every time she opens her door."
"There are TWO genders MALE & FEMALE," the sign reads, before adding "Trust the science!'"
The sign appears to be a response to Newman's push to pass the Equality Act and her public disclosure surrounding the transgender identity of her daughter.
"I'm voting yes on the Equality Act for Evie Newman, my daughter and the strongest, bravest person I know," Newman told the House floor on Tuesday.
A feud subsequently broke out between the two women, with Greene attempting to block the bill's movement through the chamber and Newman responding by erecting a transgender flag in the hallway between their offices.
The stunt came just hours after Green made a public personal attack in response to Newman's comments regarding her daughter.
"Your biological son does NOT belong in my daughters' bathrooms, locker rooms, and sports teams," Green wrote.
Green's clip has garnered 4 million views, with critics accusing the Republican congresswoman of acting unnecessarily cruelly.
"This is sad and I'm sorry this happened. Rep. Newman's daughter is transgender, and this video and tweet represents the hate and fame driven politics of self-promotion at all evil costs," Republican Representative Adam Kinzinger tweeted. "This garbage must end, in order to #RestoreOurGOP."
"Sometimes on Twitter, as in life, people remind you exactly who and what they are," Representative Raja Krishnamoorthi, D-Schaumburg, replied. "I'm proud to fight for equality with Rep Marie Newman, and I'm moved by her courage and that of her daughter."
Representative Sean Casten, D-Downers Grove, called Greene's actions "sickening, pathetic, unimaginably cruel", while Representative Jennifer Wexton, D-Va., said there was "no lower low than going after someone's kids".
"What a horrible performance by Congress' worst transphobic conspiracy theorist," Wexton wrote. "Stay (Q)lassy, Marjorie."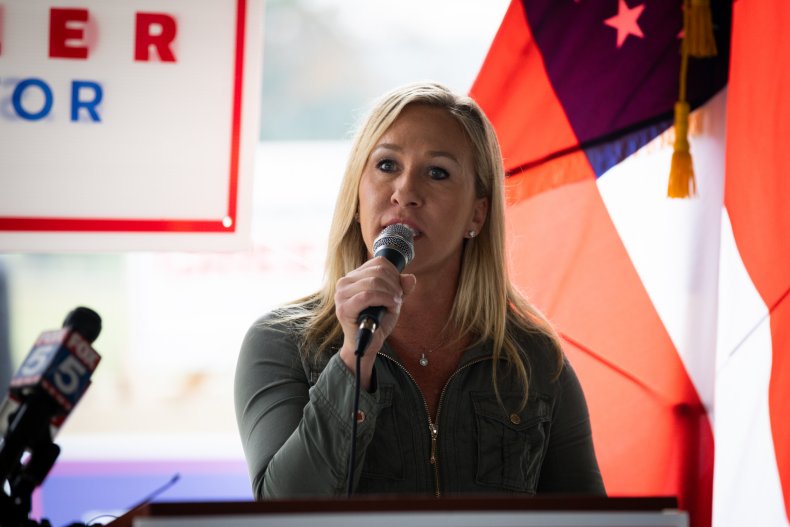 Others pointed out the hypocrisy of Greene's urging to "trust the science" when the congresswoman has repeatedly refused to wear a mask in the Capitol building and falsely touted the idea that a person must exhibit symptoms in order to carry coronavirus.
In January, Greene incredulously blamed House Speaker Nancy Pelosi for the spread of COVID-19 among some members of Congress.
She has also adamantly opposed coronavirus restrictions and previously called masks "oppressive" and a result of "Democrat tyrannical control."
"I think it's horrible what we're doing to this generation of children with these mask mandates and these shutdowns," Greene told Fox News in November last year.
Greene, who represents Georgia's 14th congressional district, has been widely criticized since being elected to the U.S. House last November.
Greene was removed from her seats on the House Education and Labor Committee and the House Budget Committee on February 4 for her remarks and social media activity about far-right extremism, supporting QAnon and other conspiracy theories.
The Georgia representative has previously made baseless claims about the Sandy Hook school shooting and the 9/11 attacks.
In Greene's past social media comments, she has advocated for violence against House Speaker Nancy Pelosi and former President Barack Obama, accused former Secretary of State Hillary Clinton of slicing off a child's face and wearing it and said that Obama created the Deferred Action for Childhood Arrivals immigrant naturalization program in order to rape children and harvest their organs.
However, the congresswoman is more favorable among voters now than before her removal, according to a Wednesday Morning Consult/Politico poll.
The poll found that 18 percent of the 1,986 registered voters surveyed have a favorable opinion of Greene after she was stripped of her committee positions, compared with 13 percent before the Republican congresswoman's removal from those posts.
The boost in favorability was larger among Republican voters.
Before she was removed from her committee seats, 19 percent of Republicans surveyed favored Greene. Her favorability among Republicans has since grown by 11 points to 30 percent.
The poll was conducted from February 5 to February 7 and has a margin of error of 2 percentage points.
Newsweek has contacted Greene's office for comment.