Marjorie Taylor Greene's Ability to Make Legislative Impact Dampened After Committee Removals
Federal lawmakers moved to strip Republican Rep. Marjorie Taylor Greene of her committee assignments during a floor vote on Thursday afternoon, where members of the U.S. House of Representatives gathered to weigh in on the congressional newcomer's placements.
Greene was elected to represent Georgia's 14th congressional district in the U.S. House last November, after rising to prominence as a vocal conspiracy theorist and leading a controversial campaign that largely hinged on her broad alignment with former president Donald Trump.
Thursday's house vote, which passed a resolution 230-199, to remove Greene from previously assigned roles on the House Education and Labor Committee, as well as the House Budget Committee, comes as the congresswoman struggles to find allies within the federal chamber. Greene has already alienated House Democrats, and a clear effort from high profile Republicans to denounce her beliefs indicates that she will have trouble asserting real influence in Congress moving forward. Moreover, she forfeits some influence with her forced withdrawal from committees.
"She'll lose the ability to sit on committee and question witnesses, which is something. That is an important platform for a member of Congress to gain attention, even if she doesn't have ambitious legislative goals," said E.J. Fagan, an assistant professor of political science at the University of Illinois, Chicago, during a conversation with Newsweek Thursday.
Fagan also noted that an absence of likeminded affiliates in the House will likely dampen Greene's capacity for legislative impact during her term in Congress.
"Her colleagues don't like her," he continued. "I think it's clear that, in order to pass a law, in order to even shape a law, your colleagues have to respect you, they have to be willing to trade with you, they have to trust you...that they can deal with you."
Although prominent Republicans, such as House Minority Leader Kevin McCarthy, contested the resolution's passage on grounds of procedure and precedence, most of Greene's GOP colleagues openly condemned her for racism and clear expressions of violence prior to, and during, their latest hearing.
"I do not in any way condone these reprehensible views," said Republican Rep. Jackie Walorski, of Indiana, on Thursday, echoing similar statements from McCarthy and a number of other GOP members of Congress over the course of the week. On Monday, Senate Minority Leader Mitch McConnell decried "loony lies and conspiracy theories" and called them a "cancer for the Republican Party," in fairly evident reference to Greene.
Republicans who argued against Thursday's resolution did not defend Greene's past comments or actions. Like Walorski and McCarthy, some described its passage as a Democratic attempt to gain power and opposed it on such basis. House Democrats condemned her behavior outright. During one of the final statements presented ahead of Thursday's vote, Rep. Ted Deutch referenced Greene's "horrific sayings" and "horrific actions" as reason to remove her from committees.
Backlash against Greene that existed before January grew after she assumed her seat in Congress this term. Following the January 6 attack on the U.S. Capitol, when thousands of Trump's followers stormed the federal complex during a violent siege that caused five deaths and dozens of injuries, many called for Greene's resignation.
Leaders and public citizens alike pointed to her rhetoric, which mirrored Trump's, regarding President Joe Biden's election triumph as a catalyst for the Capitol violence. Greene had repeatedly publicized baseless claims that suggested Biden's win was a product of voter fraud, and disputed Electoral College certification that would solidify his presidency. Her actions prompted congressional Democrats to argue that, like Trump, Greene should be held accountable for her role in inciting the Capitol siege.
Although she was not formally censured by federal colleagues, Greene continued to face widespread criticism during her first month in Congress. Trailing a wave of resurfaced social media activity, in which Greene seemed to endorse the executions of top Democratic figures, including House Speaker Nancy Pelosi, and promote false conspiracy theories about some of the deadliest mass shootings in U.S. history, House Democrats introduced a new resolution to remove her from committee placements.
Given that Greene's conspiracy theories partially targeted fatal shootings that occurred at Sandy Hook Elementary School and Stoneman Douglas High School, numerous lawmakers felt that her assignments—especially to become a member of the education and labor committee—were untoward, and damaged the House's integrity. Greene's previous comments have included anti-Semitic and Islamophobic remarks, and additionally shown support for QAnon, a viral conspiracy theory that gained traction among Trump's most extreme far-right proponents last year.
Greene, who maintained general support from fellow GOP House representatives ahead of the floor vote, attempted to distance herself from some of her past offenses in a statement earlier Thursday.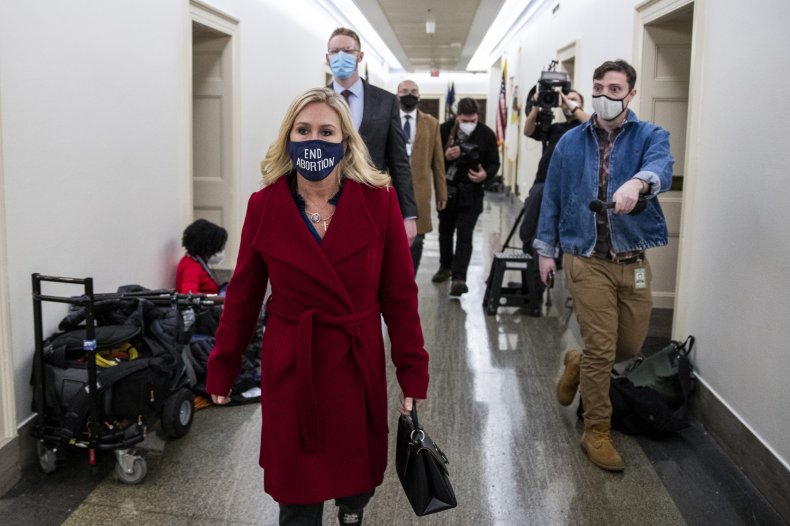 "These were words of the past and these things do not represent me," the congresswoman said, adding that she no longer backs QAnon or other conspiracy theories that falsely claimed school shootings and the September 11 attack were "fake." The statement trailed several contentious messages shared to Twitter, in which she claimed that Democrats want to "cancel every Republican" and insisted that "we owe them no apologies."