Marjorie Taylor Greene Tells Women: Don't Want Abortions? Don't Have Sex
U.S. Republican representative Marjorie Taylor Greene has told women that if they do not want to get pregnant they should stay celibate, at an anti-abortion speech she posted on Twitter on Tuesday.
Addressing onlookers, Greene, who is a representative for Georgia's 14th congressional district, said: "Women need to make better choices. If we want to be women who make choices, here's one thing you can choose. If you don't want to become pregnant right now, choose to not have sex.
"You can always abstain."
The comments from Greene, a staunch right-winger known for taking controversial stands, come as the U.S. Supreme Court might be poised to overturn the landmark Roe v. Wade decision that has granted a federal right to abortion for decades.
Greene did not approach the topic of rape in the clip she uploaded to Twitter.
"Let me tell you what a woman's choice is," she said. "To be a mother. That is the greatest choice a woman can ever make ... Here's what I want to encourage women to understand and know. If you accidentally get pregnant, let me tell you something, that abortion you're considering having, is not going to solve your problems.
"It's not going to make that boyfriend of yours or that guy love you ... It's not going to help you pursue a career that you think you want to pursue. It's not going to help you finish college."
She said that having a child would give women the strength to finish college and pursue their career, and that God would give them the resources to do it.
Greene's controversial comments on various topics have also included spreading conspiracy theories, such as that a 2017 white nationalist rally in Virginia that led to the death of a counter-protester was an "inside job," according to CNN.
In the past she has co-sponsored legislation that would ban U.S. embassies from flying the LGBT+ pride flag, and more recently has voted against sending aid funding to Ukraine as it resists an invasion by Russia.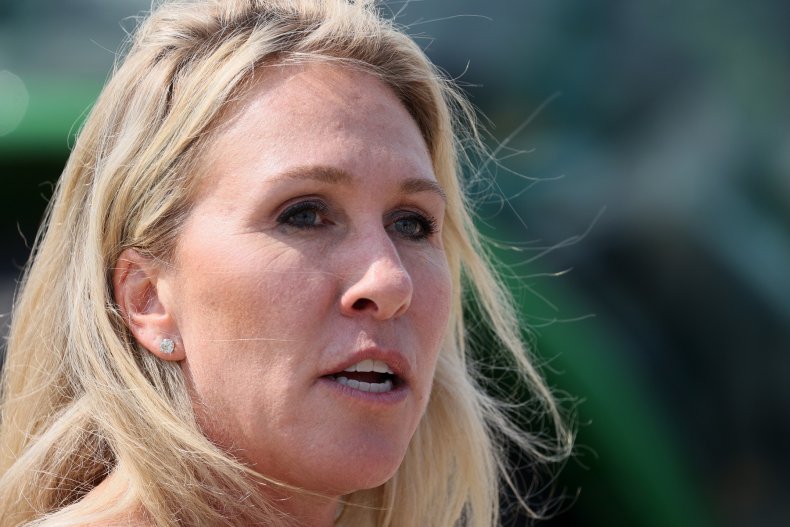 News that the Supreme Court could overturn Roe v. Wade has sparked protests across the country from activists who want abortion rights to be upheld.
On May 14 and 15, there were more than 380 events in cities including Washington D.C. and New York City with protesters holding signs including slogans such as "reproductive justice for all," The Guardian newspaper reported, citing organizers.
Anti-abortion protests have also taken place to counter them.
It is unclear how the Supreme Court will vote on the matter, but a leaked draft majority opinion from February suggested the majority will vote to overturn Roe v. Wade. However, draft opinions may change before they are officially published.
If the ruling is overturned, abortion would become illegal in 13 states immediately. How women or medical professionals would be charged is unclear. Louisiana lawmakers had proposed a bill that would allow prosecutors to charge women with homicide. The bill was pulled after widespread condemnation.