Pastor Warns About Marjorie Taylor Greene: She 'Dances With the Devil'
An Oregon pastor who frequently criticises Republicans is warning people about Representative Marjorie Taylor Greene's recent remarks urging the GOP to embrace being "Christian nationalists," saying that she "dances with the devil."
"Unlike Marjorie Taylor Greene, I've studied the Scriptures & devoted myself to serving the Church. Christian nationalism is a racist ideology incompatible with Christianity," the Reverend Chuck Currie tweeted on Monday. "Jesus was for all the world, not one nation. Beware false teachers like Greene. She dances with the devil," said Currie, who has expressed support for Democrats on Twitter.
His remarks came as Greene doubled down on her recent speech at a young conservatives event, during which she argued that being a Christian nationalist was "actually a good thing."
"We need to be the party of nationalism," the Georgia lawmaker reiterated in an interview over the weekend. "I'm a Christian, and I say it proudly—we should be Christian nationalists."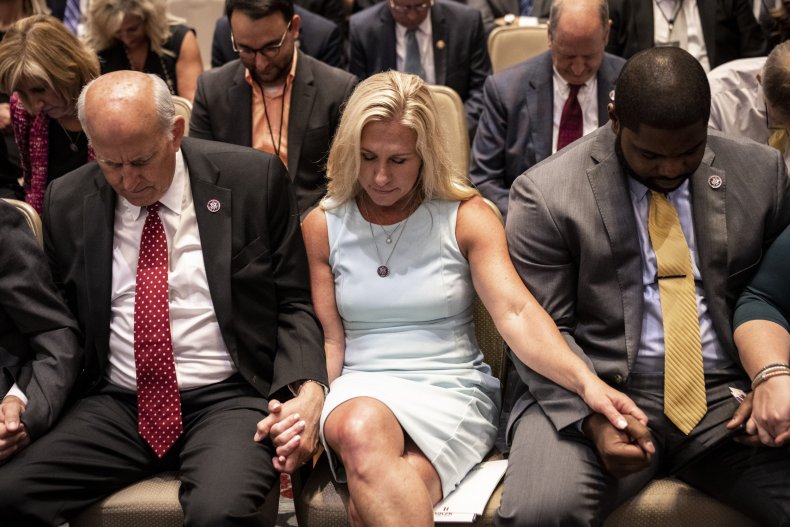 In response, Reverend Currie, a member of the clergy at United Church and chaplain at Pacific University, advised people to "never take religious advice from Marjorie Taylor Greene," arguing that the ideology she has promoted is "contrary to the teachings of Jesus."
"Christian nationalism isn't just a threat to democracy. It is also a threat to an understanding of Christianity that places Jesus and his teachings first," the pastor tweeted on Monday. "Christian nationalism is a virus. Jesus is the vaccine."
In another post, Currie quoted the late Reverend William Sloane Coffin, who said, "Nationalism, at the expense of another nation, is just as wicked as racism at the expense of another race. In other words, good patriots are not nationalists. A nationalist is a bad patriot."
On its website, the United Church of Christ describes itself as "a distinct and diverse community of Christians that come together as one church united in Spirit to love all, welcome all and seek justice for all."
Currie's website identifies issues he has sought to address as including "homelessness, healthcare, gun violence, climate change, and immigration reform".
The Middle Church of New York also slammed Greene's remarks, tweeting, "Christian nationalism violates Christ. God didn't come as ruler or a conqueror, but vulnerable love. The ethos of empire is fundamentally incompatible with the ethos of God."
The congresswoman wasn't only criticized by faith leaders. On Monday, Greene was accused of being a "Nazi" by some Twitter users. Christian nationalism has been heavily associated with far-right extremism, including white supremacy, in the U.S. over recent years.
"I am being attacked by the godless left because I said I'm a proud Christian Nationalist," Greene said as she defended her position on Twitter. "These evil people are even calling me a Nazi because I proudly love my country and my God. The left has shown us exactly who they are. They hate America, they hate God, and they hate us."
When reached for comment about Currie's comments, Greene's spokesperson Nick Dyer asked, "Who?"
In a statement sent to Newsweek, Currie said that "Marjorie Taylor Greene, in her capacity as a member of Congress, is afforded a large bully pulpit."
"She has used that pulpit to divide Americans along religious and racial lines," he added. "Christians have a responsibility to speak out when politicians attempt to misuse faith as a tool for division. Christian nationalism is a threat to both church and state."
Updated 07/28/2022, 1:40 p.m. ET: This story was updated with comments from Currie.
Updated 07/28/2022, 4:05 p.m. ET: This story was updated with additional information.