Far-right activist Ali Alexander recently ranted about his frustration with Representative Marjorie Taylor Greene, a Georgia Republican, after she supported Kevin McCarthy for House speaker.
During a brief online stream posted by Right Wing Watch on Thursday, Alexander threatened to present evidence to the state of Georgia proving that she "committed a crime" that would get her expelled from Congress.
"In the coming days, I'm going to reveal that Marjorie Taylor Greene, in my summation and the summation of lawyers, committed a crime," said Alexander, a Donald Trump supporter and "Stop the Steal" organizer.
"That crime is going to be handed to the state of Georgia, and the state of Georgia will decide whether they adjudicate that crime or not. The House Ethics Committee and House Rules must expel Marjorie Taylor Greene when this evidence comes to light."
However, he didn't mention details about the alleged "crime" that he referred to or the type of evidence he plans to submit to the state. Alexander criticized Greene for voting for McCarthy for speaker and for not supporting the motion to vacate rule, which allows a floor vote to remove a sitting House speaker.
He bashed her for believing that Democrats and RINOs (Republicans in Name Only) are a threat to GOP conservatives who, among other House representatives, began voting on Tuesday to elect a new speaker.
"Remember when Marjorie Taylor Greene said, 'If we don't vote for Kevin McCarthy on the first ballot, the Democrats and the RINOs will team up on the first or the second ballot?' We have gone through six ballots and the Democrats haven't gained one vote. They are not a threat to us. You are a harlot and a liar," Alexander said about Greene.
"She wouldn't even help the House Freedom Caucus pass a good rule called the motion to vacate, so if Kevin McCarthy betrayed us in the middle of his term, we could yank the seat. She wouldn't even support that. Then she has the audacity to lie to y'all and say she's asked for nothing. That's because Kevin has promised her everything."
Greene, who was previously outspoken about McCarthy, recently became his avid supporter and vowed to vote for him. She also criticized attempts by her fellow Republicans to block his speakership bid over the past few weeks, calling such moves "risky" and a "bad strategy."
Joseph Uscinski, a political science professor at the University of Miami and co-author of American Conspiracy Theories, told Newsweek in December that Greene's decision to support top House Republicans is meant to help her have more influence in Congress.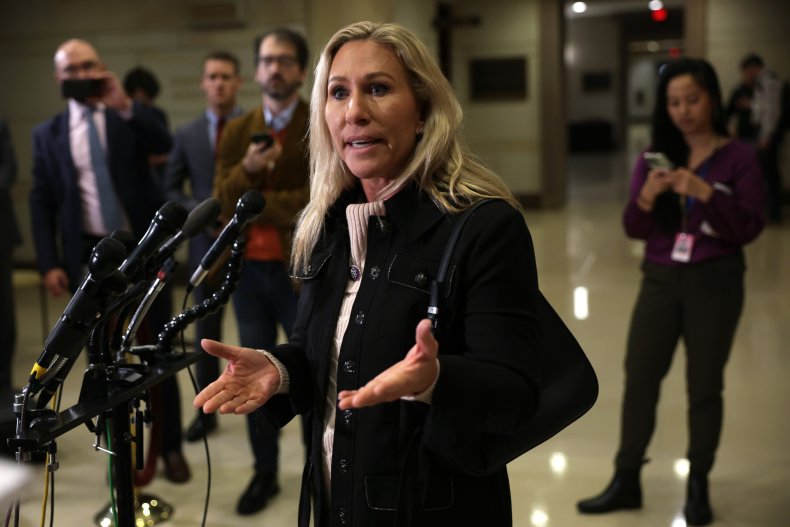 "If she wants to get things done in Congress, she's gonna need people like McCarthy on her side," Uscinski said.
But McCarthy failed to secure the gavel for the ninth consecutive ballot Thursday afternoon. He fell short despite offering major concessions to win votes from critics in his own party.
Some conservatives, including members of the House Freedom Caucus like Lauren Boebert and Matt Gaetz, are continuing to oppose McCarthy's speakership bid. They have instead nominated alternatives, including Jim Jordan of Ohio, Byron Donalds of Florida and Kevin Hern of Oklahoma.
Gaetz previously outlined some of the reasons why he doesn't want McCarthy to be speaker, claiming that the Californian is not fully complying with the GOP values and agenda.
A speaker must be elected before the House can proceed with business. Lawmakers were even advised not to leave Washington until a vote is passed.
Newsweek reached out to Greene's spokesperson and Alexander for comment.