Republican Representative Dan Crenshaw of Texas and GOP colleague Marjorie Taylor Greene of Georgia are clashing again after she criticized him for voting in favor of a bipartisan $40 billion aid package for Ukraine.
On Tuesday, the House approved the package, about $7 billion more than President Joe Biden requested, giving Ukraine military and economic assistance to help fend off Russian troops. The following day, Greene slammed Crenshaw on Twitter for supporting the package.
The argument began after Crenshaw responded to a Twitter user who also opposed the Ukraine assistance.
"[I]nvesting in the destruction of our adversary's military, without losing a single American troop, strikes me as a good idea. You should feel the same," Crenshaw told the critic.
Greene chimed in, accusing Crenshaw of wanting Ukrainian lives to be "thrown away."
"So you think we are funding a proxy war with Russia?" Greene tweeted. "You speak as if Ukrainian lives should be thrown away, as if they have no value. Just used and thrown away. For your proxy war? How does that help Americans? How does any of this help?"
Crenshaw snapped back, accusing Greene of supporting Russia.
"Still going after that slot on Russia Today huh?" he tweeted.
The sniping continued, with Greene saying the West's sanctions against Russia are doing more harm than good. She claimed the sanctions are adding to inflation.
"Sanctions aren't stopping anything, but they are driving inflation and fuel prices," Greene tweeted. "I refuse to vote for useless measures that cause problems but solve none. While you send $40 billion for your proxy war against Russia, I'm focused on baby formula for American babies."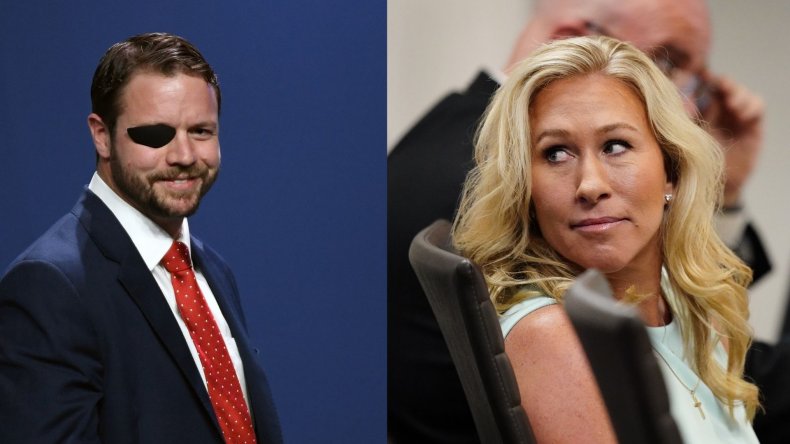 Greene suggested that American issues are more important than the war in Ukraine. She said she voted "no" to spending American tax dollars on the war-torn country.
"Americans are suffering from a baby formula crisis, a border crisis, skyrocketing inflation and fuel crisis, and they are fed up with America last politicians," Greene said.
This isn't the first time Greene and Crenshaw have disagreed on funding. In January, Crenshaw called Greene an "idiot" on Instagram after she voted to not support using the Federal Emergency Management Agency (FEMA) to operate COVID-19 testing sites.
Greene downplayed the coronavirus as "coughs and runny noses" and said funding wasn't necessary.
"No Fema should not set up testing sites to check for Omicron sneezes, coughs and runny noses," Greene said on Instagram. "And we don't need Fema in hospitals, they should hire back all the unvaccinated [healthcare workers] they fired."
Greene then suggested Crenshaw isn't a conservative for his support of COVID-19 funds.
"He needs to stop calling himself conservative, he's hurting our brand," she said.
"Hey, Marjorie, if suggesting we should follow Trump policy instead of Biden mandates makes you mad, then you might be a Democrat—or just an idiot," Crenshaw clapped back.
Newsweek reached out to Greene and Crenshaw for comment.