Marjorie Taylor Greene Suggests How Russia and Ukraine Can Reach Peace Deal
Conservative Georgia Congresswoman Marjorie Taylor Greene has suggested how Russia and Ukraine can reach a peace deal and end their five-month conflict.
Speaking on a podcast on Sunday by @catturd2, (aka. Cat Turd), one of Greene's favorite Twitter users, the divisive lawmaker said she was opposed to the U.S. funding a "proxy war" with Russia and Ukraine.
"I am completely against funding this proxy war with nuclear Russia and Ukraine. I think we should be caring about our country. Of course, no one supports what happens there, everybody feels sorry for the Ukrainian people and all that, but you know what, our country matters, so to me, I'm not concerned at all about Ukraine. I'm concerned about America," she said.
Taylor Greene detailed her plan on how to end the war, which began on February 24 when Russian President Vladimir Putin launched an invasion he called "a special military operation."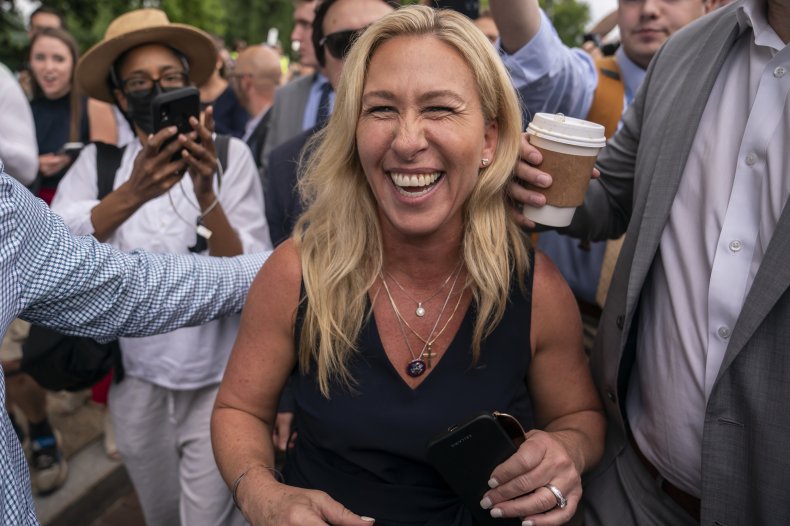 Greene said that Putin and Ukrainian President Volodymyr Zelensky should sit down at the negotiating table.
"Vladimir Putin wants access, he wants one of the ports," Greene said. "OK, we'll sit down with these two people and say a negotiation is where two parties each have to give up something to come to an agreement right?
"Well the war needs to end, we don't need to be funding war over there. We don't want a war with Russia, well at least I don't, nobody else does except the military industrial complex here in [Washington] D.C.
"But nobody wants this war so sitting down at the negotiating table should look like 'OK Putin we'll talk about access to this port but you have to make Ukraine whole.' You've destroyed their country, you've killed all these people, make them whole."
Russia has taken Ukraine's southern city of Mariupol, a strategically key port that lies on the Black Sea. It has not yet taken Odesa, Ukraine's largest port city, but there are fears that it could be Putin's next target.
Newsweek has contacted Greene's team for comment.
Peace talks between Moscow and Kyiv have frozen since early April, when negotiations brokered by Turkey in Istanbul collapsed.
As of July 5, the U.S. has committed approximately $7.6 billion in security assistance to Ukraine since the beginning of the Biden administration in January 2021. Some $6.9 billion of that has been committed since the start of the war.
The Pentagon on July 1 announced $820 million in additional security assistance for Ukraine, including a Presidential Drawdown of security assistance valued at up to $50 million, as well as $770 million in Ukraine Security Assistance Initiative funds.
The U.S. is considering providing Ukraine with additional fighter jets and pilot training to help its forces fight Russia.