Laura Loomer, a self-described "proud Islamophobe," is making another bid for Congress, and she's already gained support from Representative Marjorie Taylor Greene, a freshman Republican who's garnered national attention for her own controversial comments.
Loomer filed to run for Congress on Wednesday and is looking to unseat Democratic Representative Lois Frankel, to whom she lost in 2020 by 20 points. A controversial face in the Republican Party, Loomer's described Islam as a "cancer on humanity" and has been banned from various social media platforms, as well as ride-share apps, for her comments about Muslims.
In a tweet Thursday morning, Greene called Loomer a "friend" who is "exactly the type of America First Patriot that I need standing beside me on the House floor." She added in a comment to The Floridian that Laura will defend constituents' "free speech against Big Tech censorship, our borders against Globalist elites, and the Second Amendment against gun grabbers in Congress every day."
Loomer began to create a name for herself as a "guerrilla" journalist where she would live-stream herself ambushing politicians for interviews and has since become known for her anti-Muslim views and conspiracy theories.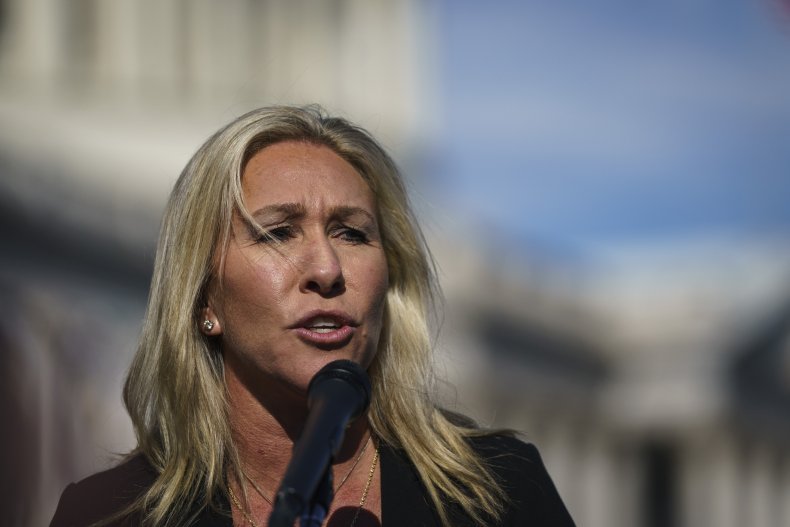 In 2017, after a terrorist attack in New York, she advocated on Twitter for someone to create a "non-Islamic form" of Uber or Lyft because "I never want to support another Islamic immigrant driver," and that she was late to a press conference because it took 30 minutes to find a "non-Muslim" cab, Uber or Lyft driver. The comments got her banned from both ride-share apps.
A year later, she was banned from Twitter for making saying Representative Ilhan Omar, one of the first Muslim women to be elected to Congress, was part of a religion in which "homosexuals are oppressed" and "women are abused." Loomer stood behind her comments as being "100 percent true and factual."
Loomer also called into question whether Marjory Stoneman Douglas High School students were given "notes" to read during television interviews and called into question the validity of the Santa Fe High School shooting.
In 2020, Loomer won a six-way Republican primary to represent the party in the House race for Florida's 21st Congressional District. It earned her a compliment from former President Donald Trump, who wrote on Twitter, "Great going Laura. You have a great chance against a Pelosi puppet." Loomer ended up losing the general election to Frankel by 20 points.
Greene also received praise from Trump, as well as his endorsement during her 2020 campaign for Congress. The freshman congresswoman was targeted for comments she made or endorsed on Facebook that encouraged violence against Democrats and promoted conspiracy theories. On February 4, the House voted to strip Greene from her committee assignments.
Greene told The Floridian she was "proud" to support "another strong woman who is absolutely fearless," in reference to Loomer.
Newsweek reached out to Representative Marjorie Taylor Greene for comment but did not receive a response in time for publication.