Hunter Biden was indicted Thursday on three felony charges relating to a 2018 firearm purchase, but GOP Representative Marjorie Taylor Greene is wondering why additional charges weren't levied against the president's son.
Special counsel David Weiss' indictment accuses Hunter Biden of lying about being an addict when he purchased a Colt Cobra 38SPL revolver from a federally licensed firearms dealer on October 12, 2018. It also alleges that he kept the weapon during an 11-day period that same month "while knowing he was an unlawful user of or addicted to any stimulant, narcotic drug, or any other controlled substance, in violation of federal law."
Earlier this week, House Speaker Kevin McCarthy appeased Greene and a faction of other hard-right Republicans in his caucus by giving the green light to an impeachment inquiry into President Joe Biden. Since the GOP took over majority control of the House after last November's midterms, the oversight and judiciary committees have focused on Joe and Hunter Biden and any potential criminal wrongdoing involving one or both of them in tandem.
In August, U.S. Attorney General Merrick Garland appointed Weiss as the special counsel in the case, providing him with extended legal jurisdiction in investigating Hunter Biden. Weiss, a U.S. attorney in Delaware who was appointed by Donald Trump, has overseen the Department of Justice's (DOJ) probe since it was launched in 2018.
On Thursday, Greene wrote on X (formerly Twitter), "Hunter Biden has been indicted for three counts of federal gun charges. But where are the indictments for tax fraud, FARA abuse, money laundering, and sex trafficking???" (FARA refers to the Foreign Agents Registration Act.)
Newsweek reached out by email to Greene for further comment.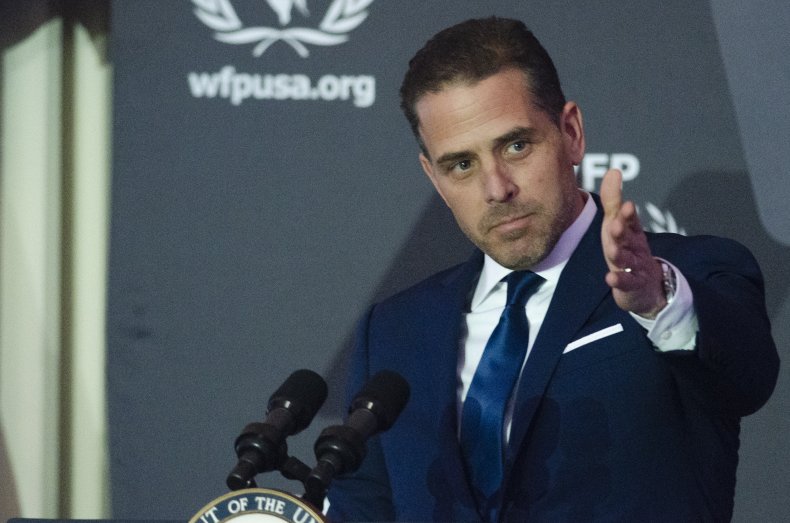 Hunter Biden has been accused by some Republicans of allegedly shady business dealings with Ukraine, based on his tenure and association with Kyiv-based energy company Burisma and Chinese businessmen.
The charges in the indictment come after some House Republicans referred to as a "sweetheart" plea deal negotiated by Hunter Biden's attorneys in June. Weiss had charged him with failure to pay federal income taxes and illegally possessing a firearm as a drug user.
Biden was expected to plead guilty to two misdemeanors for failing to pay the taxes on time in 2017 and 2018. As part of the deal, he would avoid being prosecuted on the felony gun charge.
But that deal ultimately fell through in July when U.S. District Judge Maryellen Noreika, who is presiding over the case in Wilmington, Delaware, questioned if Hunter Biden had received blanket immunity from prosecution in the plea deal or only for his tax offenses.
Noreika is listed as the judge in this new indictment.
"The Justice Department's sweetheart plea deal fell apart after a federal judge refused to rubberstamp it," House Oversight Committee Chairman James Comer, a Kentucky Republican, told Newsweek. "Mountains of evidence reveals that Hunter Biden likely committed several felonies, and Americans expect the Justice Department to apply the law equally.
He continued: "Today's charges are a very small start, but unless U.S. Attorney Weiss investigates everyone involved in the fraud schemes and influence peddling, it will be clear President Biden's DOJ is protecting Hunter Biden and the big guy."
Former Fox News host Geraldo Rivera pushed back against the indictment.
"If Hunter Biden was, say, Hunter Jones, I'd bet gun rights advocates would be arguing that his 2d Amendment rights are being violated," Rivera wrote on X.
The White House says that it has had no involvement with Hunter Biden's alleged activities in the criminal case and that the president has not discussed the accusations against his son with the DOJ. The Biden administration declined to comment to Newsweek.
A DOJ spokesperson declined to comment to Newsweek, instead referencing a press release issued following the grand jury's decision on Thursday's indictment.
Attorney Jonathan Turley, a law professor at George Washington University, told Newsweek that this may be the first time a child of a sitting president has been indicted.
If another plea deal does not draw interest from Weiss, Turley said, Hunter could plead guilty and seek the court's mercy as a first-time offender.
"However, with three counts and a failed plea deal on the record, the Justice Department would be ordinarily expected to seek some jail time," he added. "For a president in his 80s, that prospect could make a pardon look more appealing—even if it would effectively end his reelection bid."
GOP presidential candidate Vivek Ramaswamy called the indictment a "smokescreen" intended to divert attention from Joe Biden and his "cratering" level of support within the Democratic Party.
"This is a fig leaf designed to deflect attention away from the real problem: the Biden family is selling out U.S. foreign policy for their own family's private financial gain," Ramaswamy wrote on X. "That's really what's wrong, and we must hold politicians in both major political parties when they use our foreign policy to enrich their family members."