House Speaker Kevin McCarthy reportedly lashed out at his conservative colleagues during a closed-door meeting on Thursday days after he supported an impeachment inquiry into President Joe Biden.
Different variations of what McCarthy exactly said have been reported, with one report stating, "If you think you scare me because you want to file a motion to vacate, move the f****** motion," according to Politico's Olivia Beavers.
Florida Representative Brian Mast gave the same information to HuffPost's Arthur Delaney. Mast said that McCarthy was addressing the right-wing party hardliners who have been the speaker's biggest critics even prior to him taking the gavel in January.
McCarthy reportedly warned Republicans that they would lose the shutdown fight if they didn't start passing bills, and that they would stay in session if the government is not funded, CNN's Manu Raju reported. The speaker also said he wasn't scared of a vote to remove him from his position.
Florida Representative Matt Gaetz has warned this week of threatening votes for McCarthy's removal "over and over again until it works."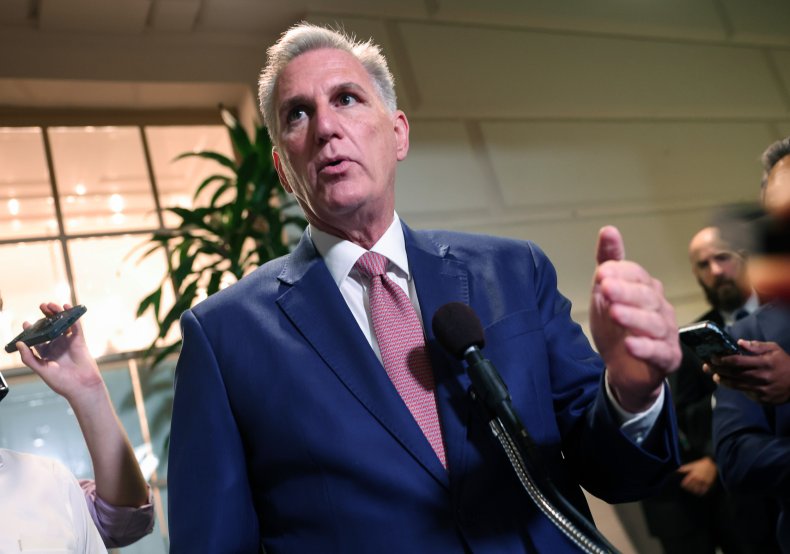 He cited the speaker's reluctance in being able to block the debt ceiling deal he made with Biden in May, adding that McCarthy has yet to take a tougher line on multiple issues, including impeachment efforts against President Biden, balancing the budget and issuing subpoenas.
McCarthy, a California Republican, appeased MAGA Republicans in one facet by announcing the impeachment inquiry on Tuesday—but a faction of members want more.
"Sounds like he's getting my message," Gaetz wrote on X, formerly Twitter, on Thursday in response to Raju's reporting. "This could be a good sign!"
Newsweek could not independently verify the reports and reached out to McCarthy, Mast and Gaetz for comment.
Steve Bannon, a former White House adviser in Donald Trump's administration, told Newsweek that the present situation is "worse, much worse" than the criticism McCarthy faced in May following his negotiations with Biden.
"It's not a faction [that is currently against McCarthy]," Bannon said. "There is zero appetite for a clean CR (continuing resolution)—zero. He will add trinkets but will need Hakeem [Jeffries, the Democratic House minority leader] to bail him out, and then the motion to vacate."
Jeffries has not commented on the reports of House Republicans.
"We will never bend the knee to efforts by right-wing extremists in the House to shutdown the government and hurt the American people," Jeffries wrote Wednesday on X.
Georgia Representative Marjorie Taylor Greene, who has mostly been an ally to McCarthy since he became speaker, supported McCarthy's statement in the conference on Thursday. She previously stated that a government shutdown would also hinder her party's efforts to impeach Biden.
"This is exactly what we should be doing," Greene wrote on X.
Newsweek reached out to Greene via email for comment.