Marjorie Taylor Greene Flees Interview After Callers Grill Her—'She's Gone'
Georgia congresswoman Marjorie Taylor Greene abruptly left an appearance on a local TV show in which she was taking questions, prompting confusion from the hosts.
Greene took part in the call-in show Night Talk on North Georgia's UCTV on Monday night.
During the show, Greene answered questions from co-host Judy O'Neal about the controversy surrounding the GOP lawmaker, such as the texts she allegedly sent to former White House chief of staff Mark Meadows in the days before the January 6 attack, as well as calls from the audience regarding her views on abortion.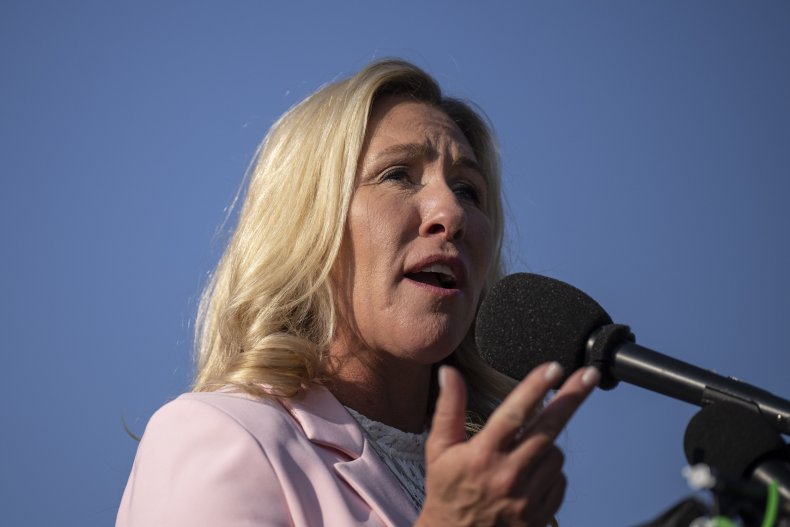 After around one hour of taking questions, one caller told Greene that she was "proud" of her voting record in Congress, and that she would be voting for the congresswoman in the upcoming midterms. Greene then thanked the woman, before Night Talk went to commercials.
Just as the show cut out, Greene could be heard explaining that she had to leave, although the reason why was not broadcast.
SUBSCRIBE TO THE PARTING SHOT WITH H. ALAN SCOTT
ON APPLE PODCASTS OR SPOTIFY
Greene's spokesperson Nick Dyer later told Newsweek that the congresswoman left as she was on the show for over an hour at that point and was only scheduled for one.
When the program returned without the congresswoman, O'Neal said: "Well, we're back without Marjorie Taylor Greene... she's gone.
"We'll take your calls and comments and whatever you have to say, but she left. She said she'd enjoyed my show and she's through, and she got up and left," O'Neal added. "So, she's outta here. Nothing I can do about that."
There was then another call from a viewer, who also said he was "proud" to have Greene representing them in Georgia.
Earlier on in the call-in, Greene got into a heated exchange with a female caller over the congresswoman's views on abortion.
Greene, who believes the procedure should banned in all circumstances, repeatedly hit back at the woman, who, she suggested, may be too old to be having children.
"You're blaming this all on the women," the caller told Greene. "My body is my body, and I want—I don't want the government telling me what I can do with my body."
Greene then interrupted the female caller to ask if she was "having children anytime soon?"
"You're right. It's your body, but a baby inside a woman's womb is another person's body, not your body and not my body," Greene said. "And abortion is murder of another human being, whether that body is inside your uterus or not. But that is murder. I do not support the murder of another human being.
"But I don't think you're having children anytime soon," Greene added. "So I appreciate your interest in women's rights, but killing an unborn baby is not a woman's right, and that's not health care."
Greene was then asked whether she believes the 10-year-old girl who became pregnant after being raped in Ohio should have been punished for having an abortion.
"A child abuser and a rapist should be put to death if they are doing that to a 10-year-old child," Greene replied. "Number one, I think that should be our focus. That is a very rare, rare, rare, rare occasion, so that should not be the entire premise of the argument on abortion."
Update 10/26/22 11:33 a.m. ET: This article has been updated with comment from Greene's spokesperson.