Marjorie Taylor Greene Says She Doesn't Recall Advocating For Martial Law
Georgia congresswoman Marjorie Taylor Greene has again denied advocating for martial law to enable Donald Trump to stay on as president after he lost the 2020 election.
Speaking to Fox News' Laura Ingraham, Greene said she does not recall sending text messages to former White House Chief of Staff Mark Meadows on January 17, 2021, days before President Joe Biden's inauguration ceremony, suggesting Trump should bring in the military to keep the former president in power.
"In our private chat with only Members, several are saying the only way to save our Republic is for Trump to call for Marshall [sic] law," Greene is alleged to have texted Meadows, reported CNN.
"I don't know on those things. I just wanted you to tell him. They stole this election. We all know. They will destroy our country next."
Meadows did not reply to the message, which was revealed along with more than 2,300 other texts Meadows sent and received between election day in 2020 and Biden's inauguration on January 20, 2021.
Speaking to Ingraham on Wednesday, the GOP congresswoman who has advocated QAnon conspiracy theories and expressed extremist views, said she does not "recall ever advocating for martial law" post-election and suggested the texts may not be from her.
"If you put that text message up, it's clear and easy to read that, if that's my text messages and that's what they're reporting, I don't recall if they are. But if they are, those text messages do not say, 'calling for martial law', that it says, 'I don't know about that'," Greene said.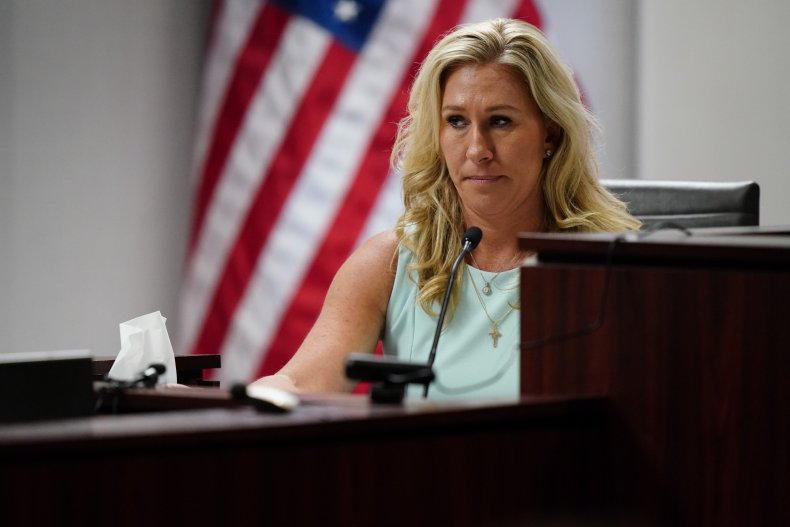 In response, Ingraham said that the reports on Greene were an "unfair hit" against the congresswoman as she was just relaying conversations she had had with other unnamed members of the House.
"I just wanted to give you the chance to tell us one way or another whether you thought that President Trump asking for martial law would be a good idea. I mean, I just thought you needed a chance to clear that up," Ingraham said.
Greene said she did not recall calling for Trump to impose martial law in order to remain in power while testifying to an Atlanta court on April 22.
Greene was defending her right to run for Congress after a campaign group brought a legal challenge against Greene to block her from running for office over allegations she helped incite the January 6 insurrection.
"So you're not denying you did it, you just don't remember?" attorney Andrew Celli Jr asked Greene at the Georgia Office of State Administrative Hearings.
"I don't remember," Greene replied.
Update 04/28/22, 6 a.m. ET: This article has been updated with more comments from the interview and context.