Marjorie Taylor Greene Dodges Question About Supporting QAnon
While testifying under oath Friday during a court hearing to determine if she will be disqualified from running for reelection, Republican Representative Marjorie Taylor Greene of Georgia invoked the name of the conspiracy theory movement QAnon before quickly moving on from the subject.
A group of voters from Greene's congressional district have filed a lawsuit that seeks to disqualify the representative from holding office over her alleged involvement in the Capitol riot on January 6, 2021. The suit claims Greene is an insurrectionist and under a provision in the Constitution's 14th Amendment that was added to prevent former Confederates from seeking office after the Civil War, she is ineligible from running for office.
Andrew Celli, an attorney for the group of Georgia voters who filed the suit, was questioning the congresswoman about comments she allegedly made in regards to a demonstration in 2019 when QAnon was brought up.
"I don't recall. You're using CNN, and they've chopped up my words so many times. They've lied about me so many times," Greene said. "I mean, you sound like you have as many conspiracy theories as QAnon at this point."
"You believe in QAnon, right?" Celli quickly asked.
"No, I did I did not say I believe in QAnon," Greene replied.
Celli tried to press her further, directly asking, "You don't believe in QAnon?"
James Bopp Jr., Greene's lawyer, argued the question was not relevant, and the topic was dropped.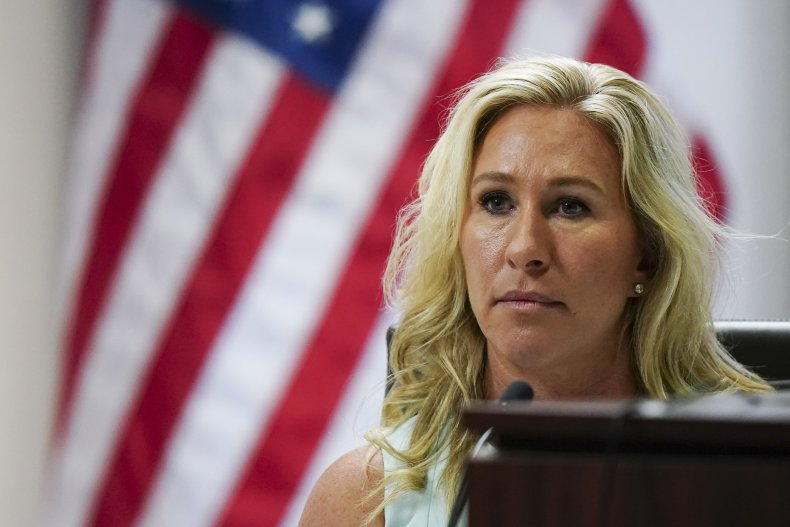 QAnon is a far-right movement tied to numerous conspiracy theories, including one that former President Donald Trump was secretly fighting a cabal of satanic child abusers, which included leading Democratic figures, during his time in the White House.
Greene reportedly supported QAnon beliefs in the past, including allegedly believing QAnon conspiracies such as the Sandy Hook and Marjory Stoneman Douglas school shootings were fake. However, she has since spoken out against QAnon, stating she was allowed to "believe things that weren't true."
Recently, however, Greene called Democrats the "party of pedophiles."
"The Democrats are the party of pedophiles, the Democrats are the party of Princess predators from Disney," Greene said during an appearance on Real America's Voice's Prime Time earlier this month."The Democrats are the party of elementary school teachers trying to transition their elementary school-aged children and convince them they are [a] different gender. This is the party of their identity, and their identity is the most disgusting, evil, horrible thing happening in our country."
Speaking to the Los Angeles Times for an April 5 article, Sophia Moskalenko, an author and psychologist who specializes in radicalization and extremism, said such language from Greene and other Republicans was meant to appeal to QAnon.
Newsweek reached out to Greene's office for comment.
Follow our live blog for updates on Greene's hearing.
Update 4/22/22 2:05 p.m. ET: This story has been updated with additional background information.