Dick Durbin Accuses GOP of Appealing to QAnon Crowd With Jackson Attacks
Democratic Senator Dick Durbin criticized last week's questioning by Republicans of Judge Ketanji Brown Jackson as he set a date for the Judiciary Committee to vote on her Supreme Court nomination.
Durbin, the panel's chairman, said Monday that most senators were fair in their interrogation of Jackson, asking tough but warranted questions. Jackson was selected by President Joe Biden to fill the seat being vacated by retiring Associate Justice Stephen Breyer.
But the senator said those who painted her sentencing rulings in child pornography cases as too lenient were playing to QAnon adherents. QAnon is a far-right political movement that has become well known for numerous conspiracy theories. They include the theory that former President Donald Trump is secretly waging a fight against "deep state" Democratic elites involved in a child sex-trafficking ring.
Durbin's remarks on Monday included his announcement that the Judiciary Committee will meet on April 4 to vote on Jackson's nomination. If the committee advances the nomination, it will go to the full Senate, where confirmation is expected if all Democrats vote in favor.
Speaking about last week's hearings, Durbin said, "Some members of this committee used the entirety of their question time, all 50 minutes, to focus exclusively on child pornography cases. Now, this may play well to the QAnon crowd and fringe conspiracy theorists who helped drive the insurrection on January 6, 2021, but the American public sees it for what it is."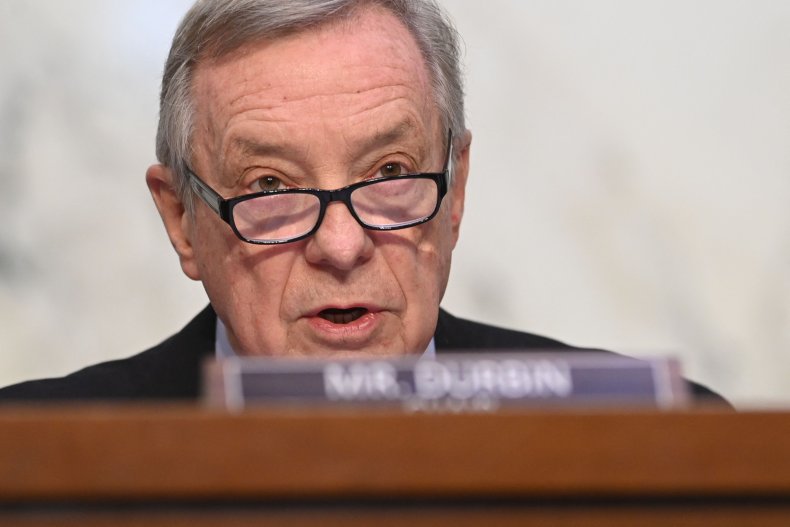 Senator Josh Hawley led the Republican attacks on Jackson's record on sentencing child sex abuse defendants. The Missouri Republican, who is considered to be a potential contender for the party's presidential nomination in 2024, said he had a "hard time wrapping my head" around her decisions.
Hawley has said he will vote against Jackson's confirmation. Newsweek reached out to Hawley's office for comment on Durbin's remarks but didn't receive a response before publication.
For her part, Jackson last week rebutted the Republicans' assertions that she was too lenient in child pornography cases.
"As a mother and a judge who has had to deal with these cases, I was thinking that nothing could be further from the truth," Jackson said during her hearings. "These are some of the most difficult cases that a judge has to deal with because we're talking about sex abuse of children."
The judge added that she tells every defendant about the victim statements she has received. "I tell them about the adults who are former child sex abuse victims that tell me they will never have a normal adult relationship because of this abuse," she said.
Democrats have the power to appoint Jackson to the Supreme Court's bench without any Republican support, so long as the party remains united. A tie in the 50-50 split Senate would be broken by Vice President Kamala Harris. If confirmed, Jackson will become the first Black woman to serve on the Court in its 233-year history.