Representative Marjorie Taylor Greene, a Georgia Republican, will be receiving cookies from Guam's delegate to Congress after the freshmen congresswoman inaccurately suggested that the island territory is a foreign land, when it's actually been part of the U.S. for more than a century.
Greene made the remark during a speech at the Conservative Political Action Conference (CPAC) last month, but a video of the remarks were uploaded on Tuesday drawing new attention to her inaccurate statement.
"I wanted to take my regular, normal person, normal, everyday American values, which is: We love our country. We believe our hard-earned tax dollars should just go for America—not for what, China, Russia, the Middle East, Guam—whatever, wherever," the GOP lawmaker said.
The Guam Daily Post reached out to local officials and lawmakers for their reaction to Greene's apparent lack of knowledge about the U.S. territory's heritage. Guam first became a part of the U.S. back in 1899—meaning it's been part of the country for 122 years.
"Congresswoman Greene is a new member, and we will be paying a visit to her and delivering delicious Chamorro Chip Cookies as part of our ongoing outreach to new members to introduce them to our wonderful island of Guam," Michael San Nicolas, Guam's congressional delegate, told the Daily Post.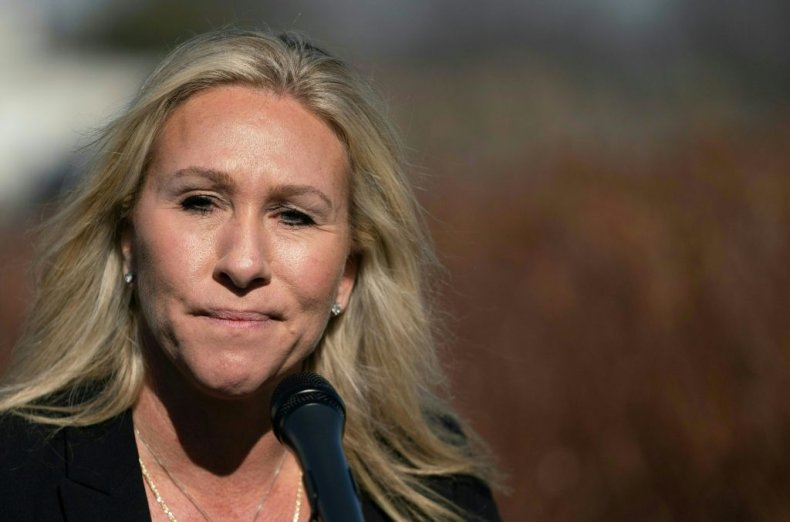 A spokesperson for the island's governor told the local newspaper that the administration would be "more than happy to send Representative Greene's office a copy of Destiny's Landfall: A History of Guam."
Meanwhile, Phil Flores, a two-time former chairman of the territory's GOP, expressed frustration with Greene's lack of awareness. He told the publication that he called the congresswoman's office and spoke with a member of her staff.
"I said Guam is a part of America. We have been for 122 years," Flores said. The former Republican Party official described Greene's remarks as "really disappointing."
"I've done much traveling in Asia ... and people in Asia know about Guam, especially here in Korea, Taiwan, Japan. But if you go to some places in the States ... they will not know about Guam," he said.
Greene has been prone to controversy since being elected to Congress. A former proponent and believer in the baseless QAnon conspiracy theory, the congresswoman has claimed in the past that high-profile school shootings did not actually take place and suggested that a laser from space controlled by prominent Jews was responsible for California's forest fires. Greene formerly suggested on social media that she would support violence against some of her Democratic colleagues as well.
After Democrats raised their concerns with House Republican leaders over Greene's extremist and unhinged views, they declined to take disciplinary action. As a result, Democrats put forward a motion to strip Greene of all of her committee assignments. That effort was approved last month with some bipartisan support, as 11 House Republicans voted with Democrats to remove her from committees. Several other House Republicans condemned Greene's views, but said they did not agree with the effort to strip her of committee assignments.
Recent polling by Reuters and Ipsos showed that less than a quarter (23 percent) of Republican voters hold a favorable view of Greene.
Newsweek reached out to Greene's press secretary for comment.