Rep. Marjorie Taylor Greene (R-Ga.) has a 24 percent average national approval rating among Republicans, while only 15 percent of all Americans approve of the freshman congresswoman.
Greene quickly became one of the most divisive figures in Congress after taking being sworn in on January 3. She was easily elected with nearly 75 percent of the vote in a deeply conservative Georgia congressional district in November. However, an average of polls shared by polling analysis site FiveThirtyEight on Friday suggests that Greene is significantly less popular nationally, even among Republicans.
Polls released this week found that 20 percent of Republicans disapprove of Greene while 24 percent approve of her, with the remainder either being unaware or undecided. Among all respondents, 37 percent disapproved and 15 percent approved. The FiveThirtyEight average was based on surveys from YouGov/The Economist, SurveyMonkey/Axios and Morning Consult/Politico. The polls had margins of error that ranged from 2.9 percent to 5 percent.
Most who were asked about Greene said that they had no opinion of the congresswoman. Republicans were less likely to be aware of or have an opinion about Greene than Democrats, with 64 percent of Democrats weighing in compared to only 44 percent of Republicans.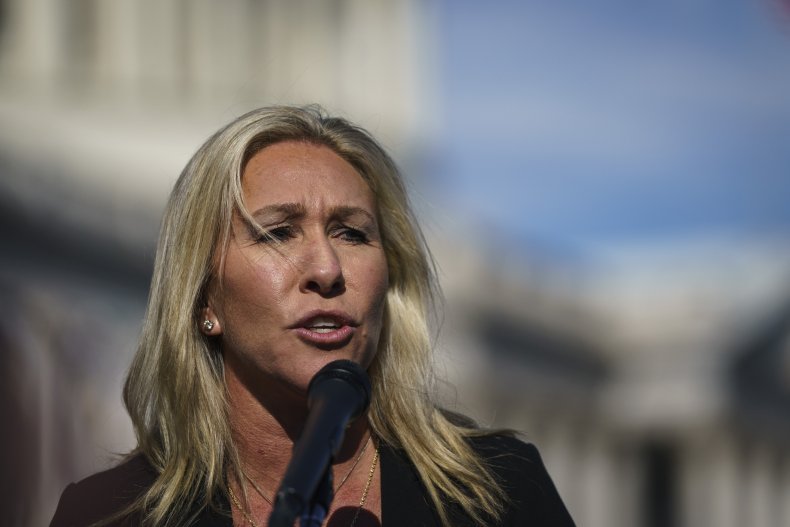 Prior to being elected, national media coverage of Greene often focused on her devotion to former President Donald Trump and her past embrace of false pro-Trump conspiracy theories like Pizzagate and QAnon. Attention has recently focused on the resurfacing of Facebook posts and "likes" from Greene that seemingly reveal support for far-right extremism.
Greene "liked" posts calling for the assassination of prominent Democrats including former President Barack Obama, former Secretary of State Hillary Clinton and Speaker of the House Nancy Pelosi. Greene also used social media to boost false claims that deadly mass shootings in Parkland, Florida, Newtown, Connecticut and Las Vegas, Nevada were actually staged.
In light of the revelations, the Democratic-controlled House took the unusual step of voting to force Greene to be removed from her committee assignments on Thursday after GOP leaders failed to act on the matter themselves. Democrats were joined by 11 Republicans who voted to strip Greene of the assignments.
Greene admitted that at least some of the conspiracy theories she had promoted in the past "weren't true" during a speech given on the House floor before the vote, expressing regret that she had discussed the theories online. By the next day, Greene insisted she was "fine" with being removed from the committees.
"I'm fine with being kicked off of my committees because it would be a waste of my time," Greene said at a Friday press conference. "I've been freed... you know what's happening on these committees? You see, we have basically a tyrannically controlled government right now."
Newsweek reached out to Greene's office for comment.