Marjorie Taylor Greene Says Isolation of White Men Is Pushing Them to Porn
Representative Marjorie Taylor Greene said that a societal backlash against white men is leading to loneliness, an increase in porn viewership and more time spent playing video games.
Greene made the comments in an interview with Daniel Schmidt, an 18-year-old University of Chicago freshman who hosts the "Piece of Schmidt" YouTube show. Aside from discussing "the persecution of white men" and "the anti-white agenda and its consequences," the pair discussed Christian nationalism and a supposed link between the pharmaceutical industry and school shootings.
"[What we hear] through Hollywood, through books, through music, through our entire culture is that white men are bad; they have to be pushed to the back, they shouldn't be listened to," Greene said in a clip posted on Twitter by left-wing pundit Ron Filipkowski. "But what that's done to your generation...it has created hopelessness in many of these guys. They're lost, they grow up in a broken home or maybe just a bad home. No one's there for them."
This time alone "turns them to all kinds of bad things," Greene said, listing internet pornography, chat rooms and "a lot of time" playing video games as examples.
Aside from not only defending her Christian nationalism in the past but encouraging young conservatives to proudly carry that mantle, Greene has made race-related comments regarding oversaturated coverage of "white supremacy"—most notably following the mass shooting that left 10 Black individuals dead inside a Buffalo, New York, grocery store in May.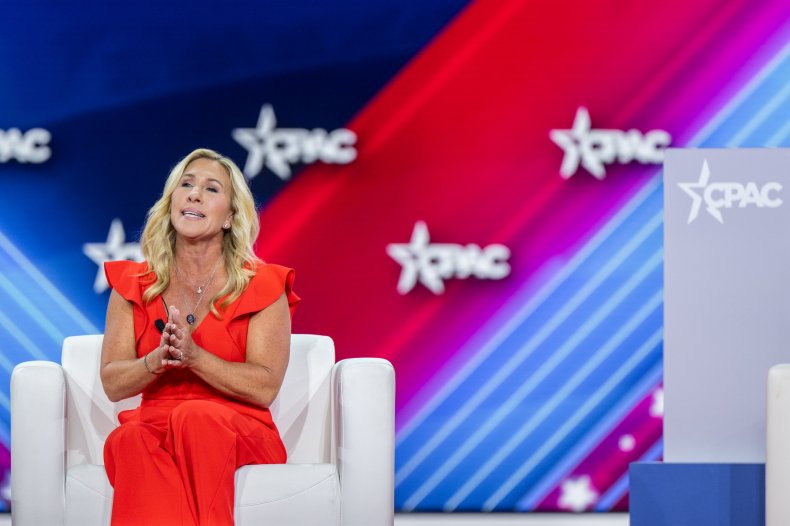 In February, House Minority Leader Kevin McCarthy admonished Greene and fellow Republican Representative Paul Gosar for agreeing to speak at the America First Political Action Conference, calling their participation "appalling and wrong."
The America First Political Action Conference was organized by Nick Fuentes, a right-wing media figure whom the Anti-Defamation League (ADL) has labeled a white supremacist. Greene told Newsweek in February that she only attended the conference to speak to 1,200 "young patriots."
In his conversation with Greene, Schmidt defended the notion that he is a Christian nationalist, telling the Georgia Republican that he believes "the interests of Christian people should be spread" and that Jesus Christ's values "should be praised."
The discussion around pornography wasn't a first for Schmidt, who recently interviewed conservative talk show host Tucker Carlson "about how porn damages young men" and "why anti-white sentiment is so pervasive."
"Very few in power speak with the level of honesty and clarity that (Greene) speaks with," Schmidt tweeted. "It's no surprise she receives relentless hate from the worst people in society."
Newsweek reached out to Greene and Schmidt for further comment.