Marjorie Taylor Greene Doubles Down on 'Jihad Squad' Remarks
Rep. Marjorie Taylor Greene (R-GA) has recycled an anti-Islamic jibe in reaction to a tweet about the Supreme Court and abortion rights.
The Georgia freshman shared a tweet by Rep. Alexandria Ocasio-Cortez (D-NY) expressing concern about the possibility that the 6-3 conservative majority court might uphold a Mississippi law that seeks to ban abortion after 15 weeks of pregnancy.
At stake is the precedent set by the historic 1973 Roe v. Wade decision legalizing abortion throughout the United States and the 1992 ruling in Planned Parenthood v. Casey, which reaffirmed Roe.
Ocasio-Cortez tweeted that one of the judges presiding over the Mississippi decision, Brett Kavanaugh, "remains credibly accused of sexual assault on multiple accounts."
Kavanaugh was controversially nominated to the Supreme Court in 2018 by ex-President Donald Trump despite facing sexual assault allegations which he denied. The Senate Judiciary Committee voted along party lines after a hearing to advance Kavanaugh to a Senate ballot, which backed his position on the court.
With Kavanaugh one of three Trump appointees, the ex-president's influence on the country's highest court is being felt at a sensitive time over the hot button issue of abortion rights.
Ocasio-Cortez added that despite "corroborated details" of the accusations Kavanaugh faced, "the court is letting him decide on whether to legalize forced birth in the US. No recusal."
In sharing Ocasio-Cortez's tweet, Greene said she had attended Kavanaugh's hearing when he was being confirmed. Greene wrote: "The paid organized leftist groups had women outside and were cycling them through to sit in. They would plan their fits and screams to make it look like a real outrage. It was all fake, just like his accusers."
In a follow up tweet, Greene said that Ocasio-Cortez's "buddy," the U.S.-Palestinian activist Linda Sarsour, "went inside a group before me."
"She is linked with Islamic terror groups like Hamas & hates Israel just like AOC and the rest of the Jihad Squad," Greene said, a reference to the group of progressives known as "the squad."
"All the hate-America activists and Soros funded radicals were there," Greene said, in a reference to the billionaire philanthropist, George Soros, who is often the target of anti-Semitic slurs.
In response, Sarsour told Newsweek in an emailed statement: "Marjorie Taylor Greene uses blatant lies, bigotry and hate to get attention. We are in a serious situation where women's rights are being rolled back decades and Marjorie is throwing tantrums on Twitter. She needs to be replaced in Congress immediately and 2022 is a good time to do that."
Greene's comment is a reprise of what her GOP colleague, Rep. Lauren Boebert (R-CO), was condemned for after describing Rep. Ilhan Omar (D-MN), a practicing Muslim, as a member of the "jihad squad."
Boebert used the term during a House debate about the censure of Arizona Rep. Paul Gosar. She used the slur again at a Colorado event where she described an alleged incident where a concerned Capitol Police officer ran towards an elevator both she and Omar were in.
"She doesn't have a backpack, we should be fine,'" Boebert told the audience, adding, "I looked over and said, 'Oh, look, the jihad squad has decided to show up for work today." Omar said the incident never happened.
After video of her comments went viral, Boebert said she had reached out to Omar's office but Omar hung up after the Colorado Republican refused to make a public apology to her, according to both lawmakers' account of the call.
Newsweek has contacted Nancy Pelosi's office for comment.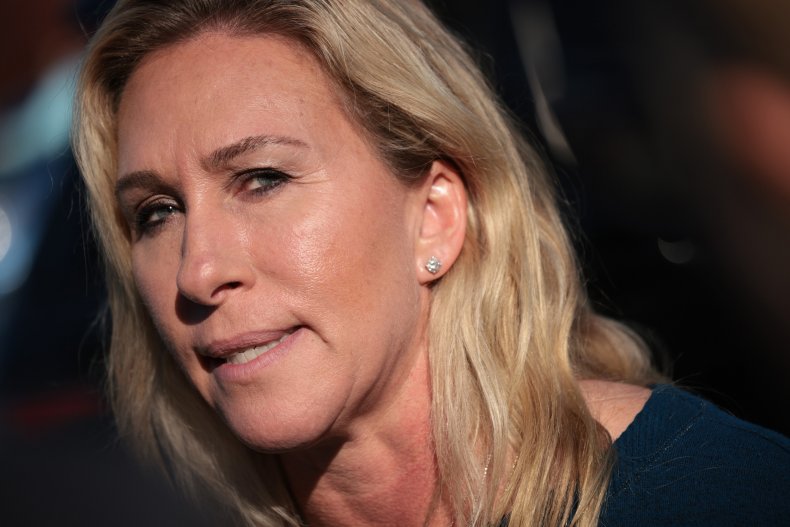 Update 12/02/21, 10:45 a.m. ET: This article was updated to include a statement from Linda Sarsour.