Marjorie Taylor Greene Slammed by John Oliver for Monkeypox Comments
Talk show host John Oliver criticized Republican Representative Marjorie Taylor Greene of Georgia for recent remarks she made about monkeypox, calling her a "danger to children" and linking her to the QAnon conspiracy theory.
Oliver brought up Greene during Sunday's episode of his HBO show Last Week Tonight while discussing how the monkeypox virus is spreading across the nation and hitting the LGBTQ+ community the hardest. Oliver talked about misinformation being spread about monkeypox and ridiculed the early public health response.
Oliver's segment aired after President Joe Biden's administration on Thursday responded to the rise in monkeypox cases by declaring the virus a public health emergency. The first case in the United States was identified in mid-May, and the most recent information from the Centers for Disease Control and Prevention (CDC) on August 5 put the confirmed case total in the country at 7,510.
Oliver played a portion of an interview Greene gave to journalist Allison Royal backstage at the Turning Point USA Student Action Summit held in late July that Royal posted on the conservative video site Rumble.
"Of course, monkeypox is a threat to some people in our population, but we know what causes it. It's basically a sexually transmitted disease, so it doesn't affect most of the population," Greene said in the video, adding, "People just have to laugh at it, mock it, and reject it....It's another scam."
After playing the video, Oliver said, "Obviously, that is ridiculous. If the way to get rid of something awful was for people to laugh at it and mock it, that woman clearly wouldn't be in Congress."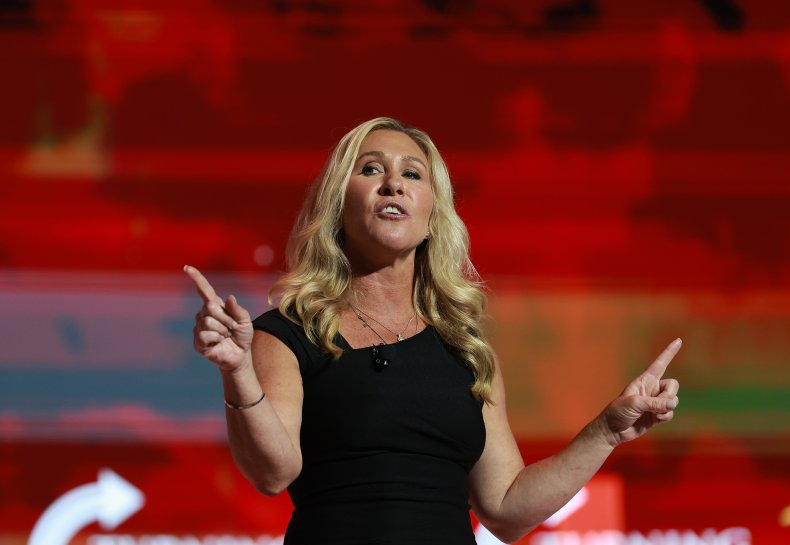 Oliver also addressed a message Greene posted on Twitter in July that said, "If monkeypox is a sexually transmitted disease, why are kids getting it."
The British comedian called the tweet "an act of obvious dog-whistle bigotry, suggesting gay people are a danger to children, when what's clearly an actual danger to children is the QAnon congresswoman who once tweeted, 'the kids at Uvalde needed JR-15s.'"
The latter message Oliver mentioned came from Greene on July 29 and referenced the May mass shooting at a school in Uvalde, Texas, which resulted in the deaths of 19 children and 2 adults. In her tweet, Greene said if the students had been armed with guns, "[a]t least they could have defended themselves since no one else did, while their parents were held back by police."
Recently, another video of Greene discussing monkeypox received media attention after political commentator Ron Filipkowski posted it on his Twitter page on July 28. In that clip, Greene says monkeypox is spread by "gay sex orgies."
During Sunday's show, Oliver went on to say that while homophobia may cause some people to push back and say straight people can also contract the virus, it is nonetheless disproportionately affecting the LGBTQ+ community more than others. Therefore, he said, "they are the ones who should be receiving the lion's share of the resources right now and specific targeted public health guidance."
Newsweek reached out to Greene's staff for comment.