Marjorie Taylor Greene Suggests Uvalde Students Needed JR-15s for Defense
Republican Representative Marjorie Taylor Greene says that the elementary school students killed during the mass shooting in Uvalde, Texas, earlier this year could have "defended themselves" had they been armed with assault weapons marketed to children.
Greene, who represents Georgia's 14th Congressional District, said that the Robb Elementary School victims "needed" to be armed with JR-15s, a small semi-automatic rifle modeled on the AR-15 and introduced earlier this year with a marketing campaign targeting children. Greene made the suggestion on Twitter while the House was meeting to debate an assault weapons ban, which included a moment where Speaker of the House Nancy Pelosi denounced JR-15s as "disgusting."
"The kids at Uvalde needed JR-15s to defend themselves from the evil maniac that didn't care about laws," Greene tweeted while sharing a photo of Pelosi next to a JR-15 poster during the House hearing. "At least they could have defended themselves since no one else did, while their parents were held back by police."
"'Give the guns to the government' & they'll protect you," she added, alongside a "face with rolling eyes" emoji.
Greene's Communications Director Nick Dyer declined to comment when asked by Newsweek whether the congresswoman supported all elementary schoolchildren being armed with assault weapons as a tactic to defend against mass shootings.
The Uvalde shooting was the country's second-most deadly elementary school shooting, resulting in the deaths of 19 children and three adults including the shooter. The deadliest elementary school shooting—the 2012 shooting at Sandy Hook Elementary in Newtown, Connecticut—left 20 children and eight adults including the shooter dead.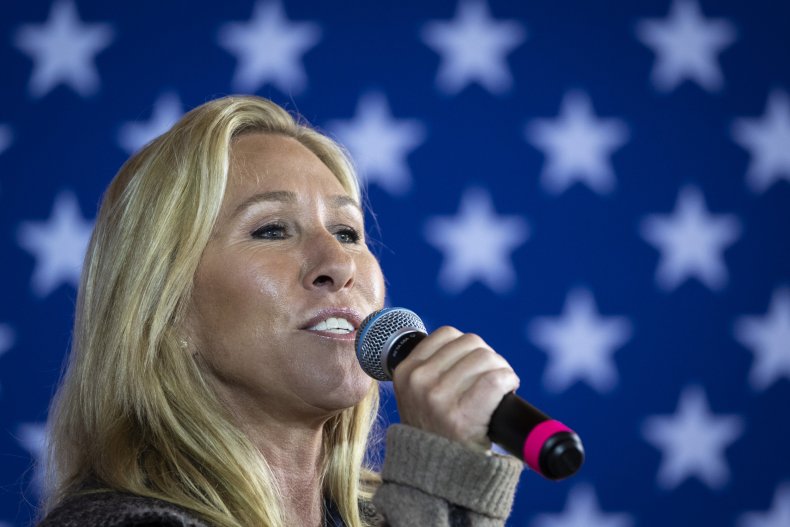 Weapons manufacturer Wee1 Tactical's JR-15 poster describes the firearm as an opportunity for children to acquire a real semi-automatic assault weapon that "looks, feels, and operates just like Mom and Dad's gun."
The company also said that the JR-15 was intended to serve as an early introduction to guns that would lead to children becoming lifelong customers of the firearms industry.
"We believe that this introduction early on will produce a deep respect for firearms that continue and last for a lifetime of safety," Wee1 Tactical said in a press release that has since been removed from the company's website, according to Insider.
Pelosi expressed astonishment at Wee1 Tactical's JR-15 marketing campaign during Thursday's House hearing. The California Democrat spoke about the campaign while next to large reproduction of the company's colorful promotional poster, featuring cartoon images of girl and boy skull characters.
"It's particularly sickening to now see these same deadly weapons—are you ready for this?—being marketed to children," Pelosi said while discussing the poster. "Here's an advertisement for a JR-15, designed to be a so-called 'smaller, safer, lighter' version of the horrific AR-15, which has been used to murder so many of their playmates and friends."
"Look at this... these little skulls with ponytails and that," she continued, pointing out the cartoon characters on the poster. "This callousness is disgusting. It's despicable and it reminds us that the crisis of gun violence requires action."
Newsweek reached out to Pelosi's office to comment.