Marjorie Taylor Greene Asks if Robert Crimo Shooting Was a Gun Control Push
Republican Representative Marjorie Taylor Greene questioned on Tuesday if multiple shootings that occurred on the Fourth of July were designed to convince conservatives to push for more gun control legislation.
Robert Crimo allegedly fatally shot at least seven people and injured dozens on Monday when he opened fire at an Independence Day parade in Highland Park, Illinois, and in Philadelphia, two police officers were shot during a fireworks display. Greene, who has faced criticism for promoting conspiracy theories related to past shootings, raised questions about the timing of the Fourth of July shootings.
"Two shootings on July 4: One in a rich white neighborhood and the other at a fireworks display," Greene said during Tuesday's episode of her online show MTG:Live. "It almost sounds like it's designed to persuade Republicans to go along with more gun control."
Greene raised questions about the shootings occurring as soon as America hit "MAGA month" when there weren't widespread shootings during Pride parades in June. She acknowledged it sounded like a "conspiracy theory."
The Georgia conservative has been outspoken about Crimo, who was charged with seven counts of first-degree murder and faces a mandatory life sentence without parole if convicted.
On Tuesday, Greene posted an altered photo of Crimo holding a Bible in front of a jail cell background. She has blamed drug use for impacting Crimo's mental state—demanding that all of his personal records be released to the public and criticizing the removal of his social media pages as being part of an effort to "hide the truth" about mass shooters.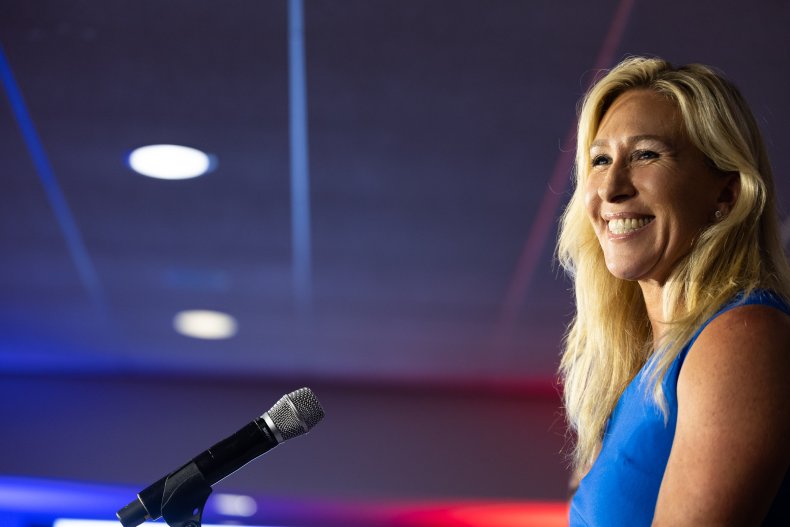 Also on Tuesday, Greene referenced the 2017 mass shooting by Stephen Paddock in Las Vegas that resulted in over 50 deaths and more than 200 people injured. She said the American people never received any explanation or answers regarding the shooter's intent.
"We never learned anything about that guy or why he did it," she said. "We didn't even get to read a manifesto. He had a massive amount of guns in his hotel room....We still don't know anything about the guy."
Greene has engaged in multiple conspiracy theories in the past, as reported by Media Matters, including alluding to the terrorist attacks of September 11, 2001, being "done by our own gov[ernment]."
She also reportedly claimed that none of the mass shootings at schools, notably in 2012 at Sandy Hook Elementary School in Newtown, Connecticut, and in 2018 at Marjory Stoneman Douglas High School in Parkland, Florida, were "real or done by the ones who were supposedly arrested for them."
Last year, Senate Minority Leader Mitch McConnell called Greene's views a "cancer" on the Republican Party, NPR reported. He referenced her "loony lies and conspiracy theories" including that an airplane never hit the Pentagon on September 11 or that the Clintons crashed John F. Kennedy Jr.'s airplane.
In an emailed comment to Newsweek, Greene spokesperson Nick Dyer wrote that the full live stream is "exhaustive."
Correction 07/06/22, 4:45 p.m. ET: The headline and first line of this article were updated to reflect that Representative Marjorie Taylor Greene didn't definitively say the July 4th shootings were part of a push for gun control, but questioned if they were connected.