Robert Crimo Faces 7 Counts of First-Degree Murder in July Fourth Massacre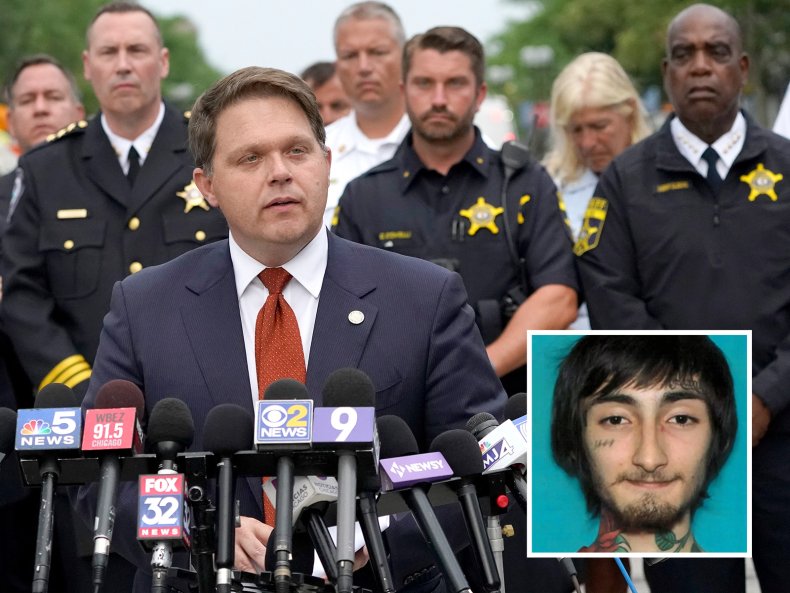 Robert Crimo III has been charged with seven counts of first-degree murder in the mass shooting at a Fourth of July parade in Highland Park, Illinois.
Lake County State's Attorney Eric Rinehart announced the charges against Crimo during a press conference on Tuesday night. Crimo, 22, was arrested on Monday evening, accused of carrying out a mass shooting during the holiday parade that left seven people dead and more than 30 others injured. Rinehart said Crimo was also expected to be charged with "many" other crimes in addition to murder.
"Today, the Lake County State's Attorney Office has charged Robert Crimo III with seven counts of first-degree murder for the killing spree that he has unleashed against our community," said Rinehart. "These are just the first of many charges that will be filed against Mr. Crimo. I want to emphasize that."
"We anticipate dozens of more charges centering around each of the victims," he added. "Psychological victims, physical victims. [Attempted] murder charges, aggravated discharge [of a firearm] charges, aggravated battery charges."
Rinehart went on to say that the murder charges alone would "lead to a mandatory life sentence, should he be convicted, without the possibility of parole." A life sentence without parole is the most severe penalty possible in Illinois, as the state abolished capital punishment in 2011.
The Lake County Coroner's office identified six of those who died on Monday as Katherine Goldstein, 88, Irina McCarthy, 35, Kevin McCarthy, 37, Jacquelyn Sundheim, 63, Stephen Straus, 88, and Nicolas Toledo-Zaragoza, 78. The death of an unnamed seventh victim was announced on Tuesday.
The shooting also resulted in the 2-year-old son of deceased victims Irina and Kevin McCarthy becoming an orphan. The uninjured toddler was discovered by strangers following the shooting, according to Chicago news station WBBM. A GoFundMe page quickly established to support his family and assist in the costs of raising him had gained nearly $1 million as of Tuesday evening.
Crimo was taken into custody within hours of the shooting. Lake County Major Crime Task Force spokesperson Chris Covelli told reporters that the suspect "pre-planned this attack for several weeks," according to CBS News, adding that a motive for the shooting was unclear.
Chicago criminal defense attorney Thomas Durkin has been hired to represent Crimo, according to WBBM. Durkin told the outlet that an attorney had not been permitted to visit Crimo in jail and that he had "only spoken to my client [Crimo] for about 10 minutes by phone" as of Tuesday night.
While prosectors are expected to request that Crimo be held without bond during a hearing on Wednesday, Durkin said that he would not contest the request "at this time," according to NBC News reporter Natasha Korecki.
Newsweek has reached out to Durkin for comment.