Marjorie Taylor Greene Left Confused by Election Lawsuit
Marjorie Taylor Greene has expressed confusion and suspicion over the lawsuit filed by voting machine company Dominion Voting Systems against right-wing news networks, including Fox News, One America News (OAN), and Newsmax.
Commenting on the company's legal action on Twitter, the Georgia Republican wrote: "Why would a voting machine company sue conservative media companies and their employees in order to cancel them out of existence? The voting machine company hasn't lost contracts so it doesn't seem that they have standing in court."
She added that: "The only conclusion is that these massive billion dollar lawsuits are purely made up of political motivations."
The legal action has further exposed bitter divides over the result of the 2020 election. Some on the right have, without evidence, contested the result entirely. Others say they are constitutionally permitted to report or comment on such claims, but have been accused of promoting misinformation.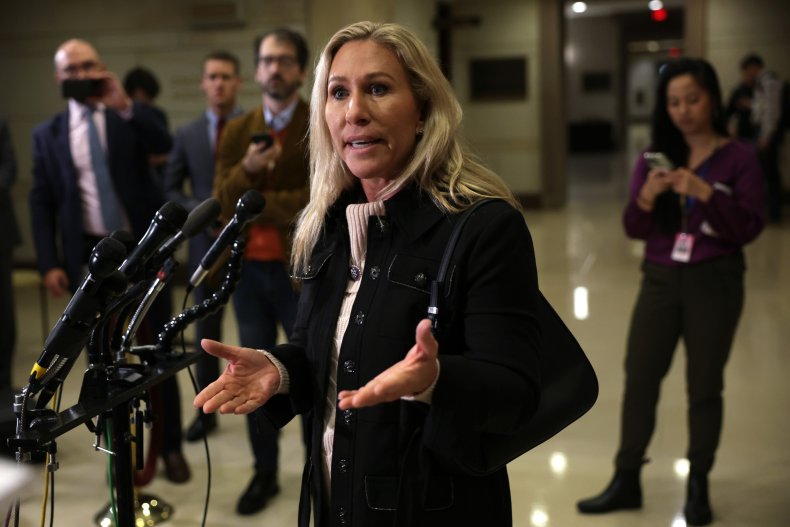 Greene, a MAGA Republican and hardliner within the GOP, suggested that Dominion's lawsuit had the purpose of controlling the outcome of elections in the U.S.
"Are they trying to control the outcomes of elections by attacking the sources of information the public consumes? Because if that's true, that would be extremely wrong and unethical of a voting machine company..," she concluded in her tweet.
Greene herself has been a strong supporter of Donald Trump's false claim that the 2020 presidential election was rigged or stolen.
This same week, the Georgia congresswoman claimed that the former president won Georgia during the 2020 election, repeating the disproven and unsubstantiated theory that there were "thousands" of dead voters whose ballots were counted in the state.
She also claimed that there was "complete and total fraud" in the election in the state.
In November 2020, Dominion Voting Systems released a statement in which it "categorically" denied claims that its election software encountered glitches that impacted the results of the presidential election.
The company included in its statement a link to a joint statement from federal election security officials that described the election as "the most secure in American history" and said there was "no evidence that any voting system deleted or lost votes, changed votes, or was in any way compromised."
Greene was rebuked by her fellow Republican Gabriel Sterling, who accused her of talking about "disproven conspiracies."
While Trump and many of his supporters continue to insist that he won the 2020 election instead of Joe Biden, there is no evidence of electoral malpractice.
The $1.6 billion defamation lawsuit filed by Dominion against Fox News accuses the company, its networks, and its parent company of having spread and amplified the false claims that Trump was the real winner of the 2020 election.
Rupert Murdoch, chairman of the media empire which owns Fox News, has admitted that some of the network's hosts "endorsed" the "Big Lie" theory that Trump won the 2020 election, according to court documents released on Monday.
Murdoch added that he could have stopped them from doing that, but he didn't.
In order to win the billion-dollar lawsuit, Dominion must prove that Fox News knowingly broadcasted false information.
In a statement, Fox News told Newsweek: "Dominion's lawsuit has always been more about what will generate headlines than what can withstand legal and factual scrutiny, as illustrated by them now being forced to slash their fanciful damages demand by more than half a billion dollars after their own expert debunked its implausible claims.
"Their summary judgment motion took an extreme, unsupported view of defamation law that would prevent journalists from basic reporting and their efforts to publicly smear FOX for covering and commenting on allegations by a sitting President of the United States should be recognized for what it is: a blatant violation of the First Amendment."
The two companies are scheduled to go on trial in a Delaware state court in April.
Newsweek has contacted Greene's team for comment.
Update, 3/2/23, 2:35 p.m. ET: This article was updated with a statement from Fox News and background information.