After it was revealed that Rep. Matt Gaetz was under federal investigation over allegations of sex trafficking a minor, the Florida Republican found himself adrift from the bulk of his party.
The House Republican conference has largely remained quiet about the investigation into their colleague, and former President Donald Trump has similarly said little about the case against the congressman, despite the pair being one-time allies.
Rep. Adam Kinzinger (R-IL), a GOP lawmaker on the so-called "moderate" wing of the party, went so far as to call for Gaetz's resignation shortly after news of the investigation broke in April.
However, there has been one Republican lawmaker still happy to appear beside the embattled Gaetz: Rep. Marjorie Taylor Greene of Georgia.
The freshman congresswoman has appeared with Gaetz at pro-Trump "America First" rallies across the country, and today the pair plan to appear in Dalton, Georgia, following past trips to Arizona and Florida.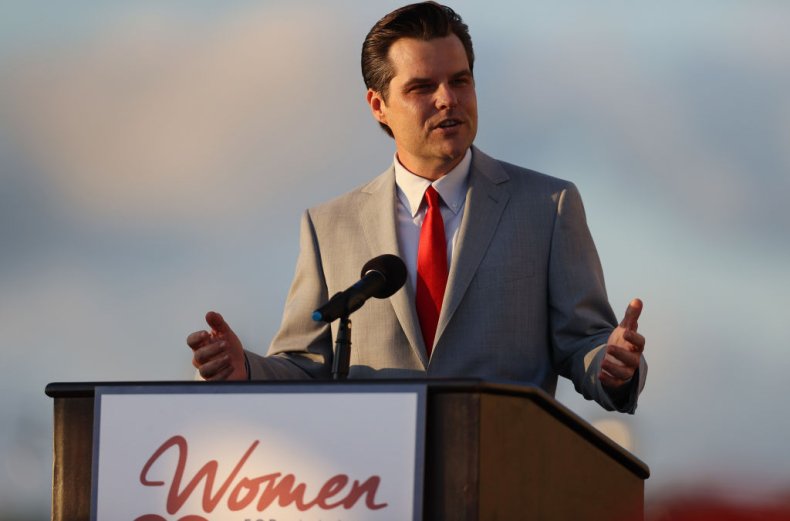 "There's someone else here who you definitely need to hear from, because he's so great and I'm so happy I serve with him," Rep. Greene said as she introduced Gaetz at their Florida rally on May 8.
Rep. Gaetz, who has denied all wrongdoing and the allegations against him, then used his time on the podium to rail against "woketopians," socialism, and so-called "Republicans in Name Only," or RINOs.
His rallies with Greene clearly posed an opportunity to keep himself afloat, at least among a certain section of the GOP base.
But Greene is now in the firing line over a comparison she made between the Holocaust and the House Speaker Nancy Pelosi's mask mandate. She also finds herself sunk with a GOP leadership that has refused to defend her comments, and facing a petition calling for her to be expelled from the House.
In an interview last Thursday, Rep. Greene said: "You know, we can look back in a time and history where people were told to wear a gold star, and they were definitely treated like second-class citizens, so much so that they were put in trains and taken to gas chambers in Nazi Germany.
"This is exactly the type of abuse that Nancy Pelosi is talking about."
The House Minority Leader Kevin McCarthy (R-CA) said it was "appalling" of Greene to make an "intentional decision to compare the horrors of the Holocaust with wearing a mask." He added that it was "deeply troubling" that it had to be stated.
Rep. Elise Stefanik (R-NY), the recently promoted chair of the House Republican conference, said Greene's remarks belittled "the most significant human atrocities ever committed," and called on lawmakers to work together to educate Americans about the horrors of the Holocaust.
Greene responded by hitting back at the Republican leadership. She said it was "really a shame" that McCarthy had chosen to criticize her, and that other Republicans shouldn't have followed suit.
She also shared a tweet that dubbed McCarthy a "moron" and "feckless c**t" on Tuesday.
In a statement to Newsweek, Rep. Greene said the media was trying to hide the "disgusting antisemitism within the Democrat Party" by focusing on her remarks, and claimed lawmakers in their ranks were "supporting terrorist Hamas."
"Their attempts to shame, ostracize, and brand Americans who choose not to get vaccinated or wear a mask are reminiscent of the great tyrants of history who did the same to those who would not comply," she said.
She added that she was "sorry some of my words make people uncomfortable," but stood by the thrust of what she was saying. Newsweek contacted Rep. Gaetz's office for further comment.