Every Republican to Speak Out Against Marjorie Taylor Greene's Holocaust Remarks
Republicans issued condemnations of Rep. Marjorie Taylor Greene (R-Ga.) on Tuesday, following days of mounting criticism over her repeated comparison of COVID-19 safety measures to the Holocaust.
In an interview last Thursday, the controversial freshman congresswoman from Georgia attacked House Speaker Nancy Pelosi's decision to continue requiring members to wear masks on the chamber floor, likening it and other safety protocols to the persecution of Jews in Nazi Germany.
"You know, we can look back in a time and history where people were told to wear a gold star, and they were definitely treated like second-class citizens, so much so that they were put in trains and taken to gas chambers in Nazi Germany," Greene said.
"This is exactly the type of abuse that Nancy Pelosi is talking about."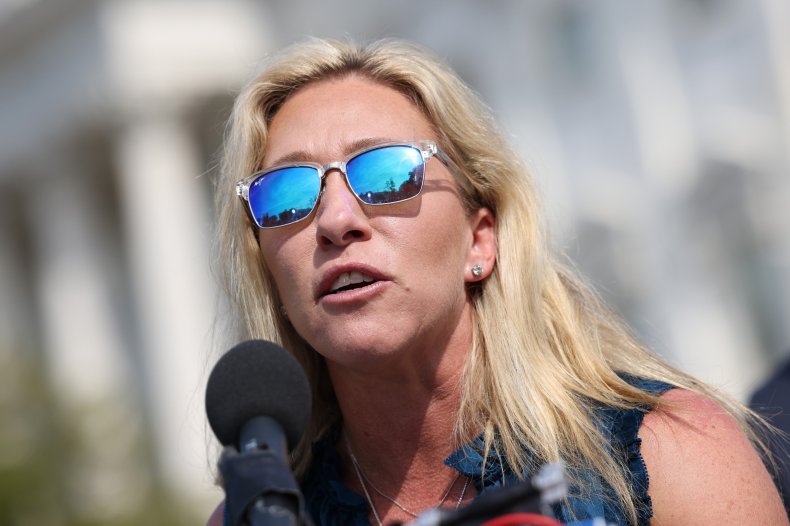 Despite a barrage of criticism, Greene refused to apologize and has doubled down on the comparison in the days since.
After days of growing pressure to address Greene's remarks and calls to expel her from Congress, House Minority Leader Kevin McCarthy released a statement branding them "appalling" on Tuesday, but stopped short of calling for her to face disciplinary measures.
Here's what McCarthy and other Republicans have said:
Kevin McCarthy
"Marjorie is wrong, and her intentional decision to compare the horrors of the Holocaust with wearing masks is appalling," McCarthy said in a statement.
"The Holocaust is the greatest atrocity committed in history. The fact that this needs to be stated today is deeply troubling."
McCarthy's statement also pointed to an alleged rise in antisemitism within the Democratic Party.
"At a time when the Jewish people face increased violence and threats, antisemitism is on the rise in the Democrat Party, and is completely ignored by Speaker Nancy Pelosi," he said.
"Americans must stand together to defeat antisemitism and any attempt to diminish the history of the Holocaust. Let me be clear: the House Republican Conference condemns this language."
Mitch McConnell
"She doesn't serve in the Senate but this is one of the frequent outbursts that are absolutely outrageous and reprehensible," Senate Minority Leader Mitch McConnell told a reporter on Tuesday.
"But any punishment I assume would have to be administered by the House."
McConnell also spoken out against Greene in February, saying the congresswoman's "loony lies and conspiracies" were a "cancer for the Republican Party and our country."
Steve Scalise
"[Scalise] does not agree with these comments and condemns these comparisons to the Holocaust," a spokeswoman for House Minority Whip Steve Scalise, the GOP's No. 2 in the chamber, said in a statement.
"We also need to be speaking out strongly against the dangerous antisemitism that is growing in our streets and in the Democrat party," she added.
Elise Stefanik
"Equating mask wearing and vaccines to the Holocaust belittles the most significant human atrocities ever committed," tweeted Rep. Elise Stefanik, who was recently elevated to the third-ranking leadership job in the House after Liz Cheney's ousting.
"We must all work together to educate our fellow Americans on the unthinkable horrors of the Holocaust."
Adam Kinzinger
"MTG's comments comparing the mask rules to the Holocaust are despicable," Illinois Rep. Adam Kinzinger tweeted on Tuesday.
He also called on the National Republican Congressional Committee (NRCC) to donate Greene's political contributions to the Holocaust Museum.
"As a party it's time to say enough is enough—I call on the NRCC to donate her political contributions to the holocaust museum. She does NOT represent the party or our values," he wrote.
Don Bacon
In an appearance on CNN Newsroom on Tuesday, GOP Rep. Don Bacon, of Nebraska, said it was "bizarre" and "reprehensible, in my view, to compare, you know, what's going on with COVID and the vaccines with the treatment of Jews under the Holocaust."
"Yes, we should say it's wrong," he added. "What Marjorie Taylor Greene has said is wrong."
Byron Donalds
GOP Rep. Byron Donalds, of Florida, told CBS News that he disagrees with Greene's comments.
"I think she's wrong for that, and that's something where she's going to have to explain herself in more detail," he said.
Liz Cheney
Wyoming Rep. Liz Cheney was among the few Republicans to publicly condemned Greene's comments before Tuesday's statements from Republican leaders.
"This is evil lunacy," she tweeted on Friday.
Peter Meijer
Michigan Rep. Peter Meijer described Greene's comments as "beyond reprehensible" told Dana Bash on CNN's State of the Union on Sunday.
"I don't even have words to describe how disappointing it is to see this hyperbolic speech that frankly amps up and plays into a lot of the antisemitism that we have been seeing in our society today," he said.