Rep. Marjorie Taylor Greene attempted a Mexican accent as she claimed drug cartels in the country "love" Democrats and were "raking it in" amid the ongoing crisis on the U.S.'s southern border.
Speaking at an "America First" rally in Dalton, Georgia on Thursday, the Republican accused Democrats of being "in the business of helping the cartels," before making an attempt at what she admitted as a "bad Mexican accent."
The rally was the latest in a series of road trip events held by Greene and her embattled colleague Rep. Matt Gaetz (R-FL) amid an ongoing civil war between the "America First" wing of the Republican Party, and the so-called "moderate" faction.
In a speech to her supporters, Rep. Greene said: "Does the Biden administration and the Democrats not worry about children in cages anymore? Do they not care about drug trafficking, human trafficking? No, they're in the business of helping the cartels.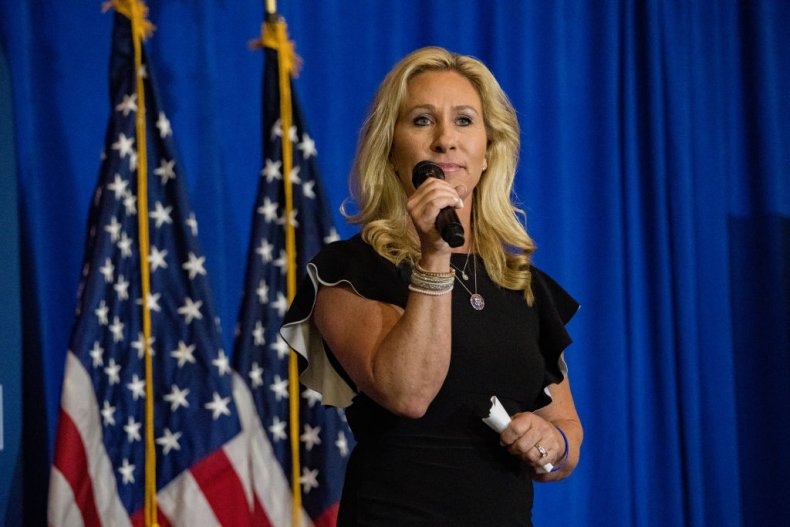 "The cartels love the Democrats. They're down there, they're like this, 'We're making a lot of money off of Biden, Joe Biden.' That's my really bad Mexican accent. Oh, they love them, they love them. They are raking it in."
Newsweek has contacted Rep. Greene's office for further comment.
The freshman congresswoman landed in hot water last week after she compared a mask mandate imposed by House Speaker Nancy Pelosi with the horrors of the Holocaust.
In an interview last Thursday, Greene said: "You know, we can look back in a time and history where people were told to wear a gold star, and they were definitely treated like second-class citizens, so much so that they were put in trains and taken to gas chambers in Nazi Germany.
"This is exactly the type of abuse that Nancy Pelosi is talking about."
The remarks prompted widespread criticism of the Georgia Republican, with leadership figures in her own party making a point of condemning her comparison.
"Marjorie is wrong, and her intentional decision to compare the horrors of the Holocaust with wearing masks is appalling," Rep. Kevin McCarthy (R-CA) said in a statement. "The Holocaust is the greatest atrocity committed in history. The fact that this needs to be stated today is deeply troubling."
Rep. Elise Stefanik (R-NY), the new chair of the House GOP conference, said it "belittles the most significant human atrocities ever committed" to compare them with the need to wear a face mask.
"We must all work together to educate our fellow Americans on the unthinkable horrors of the Holocaust," she added.