Marjorie Taylor Greene Mocked Over 'Reading All 14 Pages' Green New Deal Tweet
Rep. Marjorie Taylor Greene (R-GA) has been widely mocked on social media after tweeting that she planned to debate her Democratic colleague, Alexandria Ocasio-Cortez, on her proposal for a Green New Deal, but only after she had finished reading "all 14 pages" of it.
Greene posted a photo of herself talking to the New York representative on the House floor, saying she was preparing for a debate on Ocasio-Cortez's plan to tackle the climate crisis.
"I'm glad I ran into you today @AOC to plan our debate about the Green New Deal," the self-described "100% Pro-Life, Pro-Gun, Pro-Trump" representative wrote. "After I finish reading all 14 pages, like we agreed, I'll schedule time for our debate."
The tweet was quickly picked apart, including by those who questioned why Greene had yet to read the House resolution despite her repeated criticism of it.
"Wait. Let me get this right... you constantly attack the bill and everything it stands for... but you have never actually read it?" tweeted user Rory Williamson.
"That's a level of dedication to ignorance that could almost be admired. Almost," wrote Twitter user Scott Fitton in reply to a tweet posted by comedian Patton Oswalt: "FOURTEEN WHOLE PAGES? Lookit Tolstoy ovah heah."
Earlier in the day, Greene had tweeted criticism of the plan, claiming it would "destroy the US's oil and gas industry just after we became energy independent from President Trump's #AmericaFirst policies," adding that China and Russia "love the GND [Green New Deal]."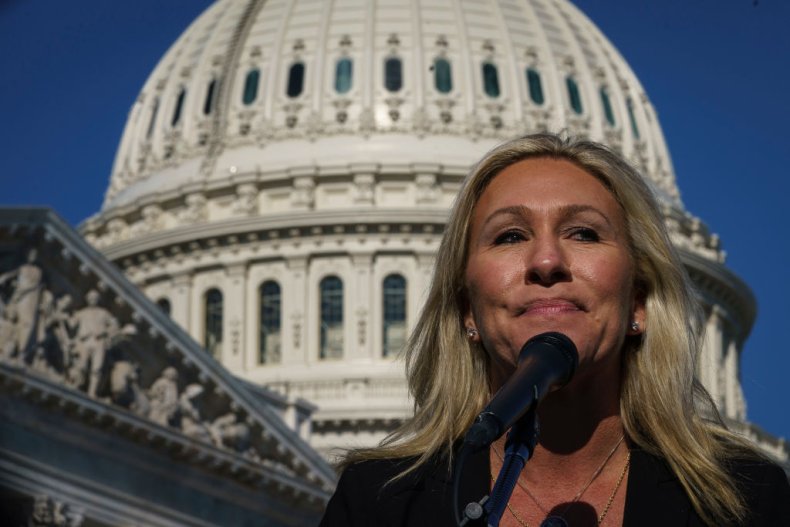 Greene's apparent dismay at the length of the Green New Deal was also ridiculed, with her comments described as a "self own."
"Maybe someone could make an audio book for her," said one person responding to her tweet.
Another commented: "If she thinks 14 pages is long, just wait until she actually reads the bible she claims to live by."
Last week Greene challenged Ocasio-Cortez to a live, televised debate on the Green New Deal, insisting it would be "informative for the American People. They deserve to hear the two sides with pro's and con's."
In February, the House of Representatives voted in favor of stripping Greene of committee assignments over her past inflammatory comments and the spreading of conspiracy theories, including promoting false claims that the school shootings in Parkland and Newtown were fake and an anti-Semitic theory that California wildfires were started by a "Jewish space laser."
Greene, at one point a high-profile advocate of QAnon, the radical conspiracy that believed Donald Trump would take down a secret high-profile satanic pedophile ring, has since attempted to disassociate herself from it.
Newsweek contacted Greene's office for comment.