Marjorie Taylor Greene Mocked Over SOTU Outfit: 'Cruella de Vil'
Marjorie Taylor Greene has been ridiculed on social media for wearing an outfit many said made her look like Cruella de Vil. The Georgia congresswoman was among the House Republicans booing President Joe Biden during his State of the Union address on Tuesday night.
Greene caught the attention of the cameras with her rowdy interruptions during the speech. She shouted "liar" to Biden after the president accused the GOP of wanting to cut Social Security and Medicare. But what caught the attention of people on social media was the white fur coat she was wearing.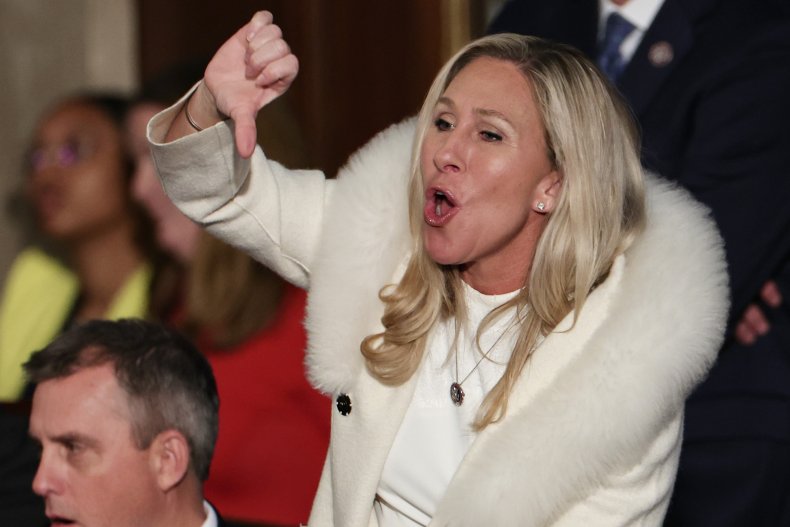 "It's giving the witch from The Lion, The Witch and the Wardrobe... " one user wrote on Twitter, comparing the congresswoman to the villain of C. S. Lewis' The Chronicles of Narnia.
"Oh look it's Marjorie Taylor Greene at the State of The Union," wrote another, comparing the MAGA Republican to Cruella de Vil.
"Marjorie Taylor Greene sweating and screeching at tonight's SOTU in her 'designer' Kid Rock Polyester Possum Coat was all you ever need to remember about MAGA," one Twitter user commented.
Many of those criticizing Greene's outfit also celebrated the way Biden responded to her heckling. The president appeared to relish the confrontation, turning the booing into consensus.
"So, folks, as we all apparently agree, Social Security and Medicare are off the books now, right? They're not to be touched? All right. We've got unanimity!" Biden said, after being booed by Republicans. At the remarks, Congress exploded in applause and cheering.
Biden added that anyone doubting his words could contact his office "for proof."
"It was just beautiful to watch an experienced politician (#POTUS) literally own you and the entire Republican Party. That coat!!! Ridiculous!," one Twitter user commented.
In posts and a video published on her Twitter account after the State of the Union, Greene said the president's claims that Republicans want to cut Social Security and Medicare are false. "He's a liar," she wrote.
Jeers and mockery are not traditionally part of U.S. politics. When, in 2009, South Carolina Republican Joe Wilson shouted "you lie" at then-president Barack Obama, it was considered a breach of protocol for which the congressman was rebuked.
However, things have changed in the past few years. Greene had already disrupted Biden's State of the Union address in 2022, when she tried to start a "build the wall" chant, among other disruptions.
This year, she brought a white helium balloon to the speech. She was mocking Biden's initial response to the Chinese spy balloon that flew through the U.S. this past week before being shot down off the coast of South Carolina.
As Republicans jeered and shouted, House Speaker Kevin McCarthy tried to shush them.