Marjorie Taylor Greene Outraged Joe Biden Reduced Gas Prices
Republican Representative Marjorie Taylor Greene of Georgia on Friday expressed her frustration with President Joe Biden for reducing gas prices last year, claiming that it was an effort that was meant to help Democrats win in the midterm elections.
"Since Joe Biden has become president, he has abused his emergency power and sold American oil to our enemies. China was the number one buyer. President Biden abused his power to sell our oil, reduced gas prices so that the midterm elections would swing Democrats' way," Greene said on the House floor.
"It's a shame to trick the American people just to win an election. No president should be able to use their emergency powers for politics," she added.
The national average price of gas in the U.S. reached $3.84 by October of last year after it skyrocketed during the summer as it surpassed an average of $5 per gallon in some states. The national average price of gas reached just under $3.51 as of Friday, according to the AAA.
The drop in gas prices in October also came as Biden announced that the U.S. would be releasing the remaining 15 million barrels of oil from the U.S. Strategic Petroleum Reserve that had been part of the 180 million barrels of oil the Biden administration announced it was releasing last March to help offset high prices.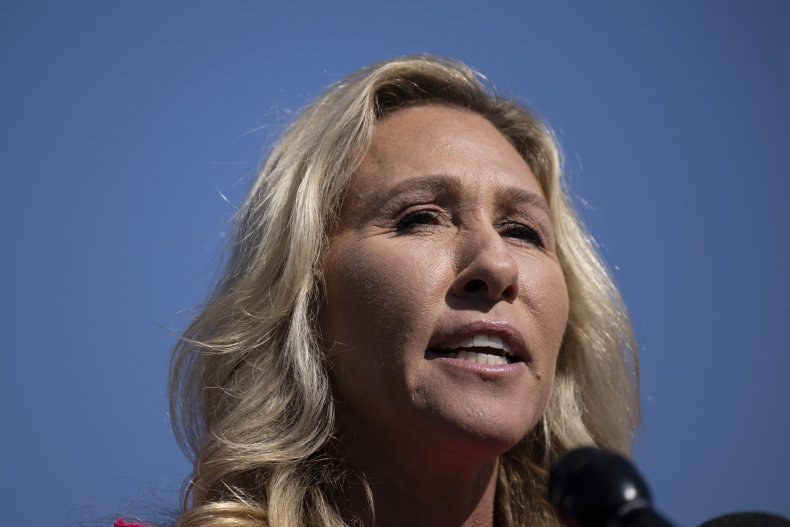 Greene on Friday said that the president didn't announce a plan on how he will replace "very important oil that has been sold out of our strategic petroleum reserves."
"This president has sold out America by selling our strategic petroleum reserves and creating a national security crisis for all of America," she said.
The Georgia Republican introduced an amendment to the Strategic Production Response Act that would have prevented the president from selling oil. However, this amendment failed on Thursday by a vote of 418 to 14, with seven members not voting.
The Strategic Production Response Act was introduced by Republican Representative Cathy McMorris Rodgers and it "limits the drawdown of petroleum in the Strategic Petroleum Reserve until the Department of Energy develops a plan to increase the percentage of federal lands leased for oil and gas production," according to a summary of the bill posted on Congress' website.
Though Greene criticized Biden's oil plan by saying it was done for political reasons, Democratic Representative Ted Lieu of California argued that it doesn't matter why Biden lowered gas prices so long as it served Americans.
"Let me tell you what this is all about. I can summarize this debate of the last two days into one sentence: Joe Biden lowered your gas prices and Republicans are upset about it," he said during the House session on Friday.
"That's what this is about. Joe Biden lowered your gas prices last year, and that makes Republicans mad and how do we know? They said it out loud," Lieu said.
He continued: "The gentlewoman from Georgia [Greene] earlier this morning just said that Joe Biden lowered your gas prices for political reasons. You know, I don't care why [the] president lowers your gas prices. If any president can lower your gas prices, we should support that president's action.
"And if prices surge later this year, if gas prices surge again, Joe Biden should be able to use the tools at his disposal and lower your gas prices again. We should be giving the president even more flexibility to use the Strategic Petroleum Reserves to lower gas prices."
According to The Wall Street Journal, the United States was able to secure around $4 billion worth of profit from selling crude out of the Strategic Petroleum Reserve, which Lieu mentioned on Friday as he criticized Greene's amendment proposal.
When contacted for comment, Greene's spokesperson referred Newsweek to a press release about the Republican's proposals. In the release, Greene said that her proposed amendment would "stop Joe Biden from selling our oil to China to score political points. He will no longer be able to trick and deceive the American people by doing business with our enemies."
She also introduced another amendment which would require Biden to "refill America's Petroleum Reserves to the level it was on his first full day in office," according to the press release.