Marjorie Taylor Greene Proposes Trading Democrats for Canadian Guns
Republican U.S. Representative Marjorie Taylor Greene of Georgia has denounced Canada's proposed ban on handguns, while offering to trade Democrats for the Canadian government's "unwanted" guns.
In a series of tweets on Tuesday, Greene blasted Canadian Prime Minister Justin Trudeau's proposed ban, which was announced on Monday. The Georgia Republican said that her disapproval of the proposal had led "Democrat blue check marks & blueanons" on Twitter to discuss a U.S. annex of "defenseless Canada" because they were in favor of "Trudeau's wokeness & tyrannical dictatorship."
"I have a proposal to Canada to solve this," Greene tweeted. "Give us all your guns since you don't want them, and freedom loving anti-vax Canadians, especially your truckers & and those who supported them."
"And in return, we will give you our Democrats including the Biden admin, Congressional Dems, resister federal employees, Hollywood commies, trans terrorist teachers, woke corporate CEO's, super vaxxers, and we will throw in a bonus - George Soros and all his money," she continued. "We will all be so happy!"
Earlier in the day, Greene took more direct aim at the Canadian proposal, which came almost one week after a gunman fatally shot 19 children and two teachers at an elementary school in Uvalde, Texas. Greene tweeted that Trudeau's ban "makes his country weak and vulnerable to being invaded and easily taken over by another stronger country."
"Canada has an incredibly weak military & now with Trudeau's gun grab, his people are left defenseless not only by a criminal attacker, but also defenseless against another country's military invasion," Greene continued. "This is a terrible violation of rights to innocent Canadians by their Gov."
On Monday, Trudeau said that it would "no longer be possible to buy, sell, transfer, or import handguns anywhere in Canada" if the proposal is passed in the Canadian Parliament. Since Trudeau's ruling Liberal Party and the left-leaning New Democratic Party both support the ban, it is expected to pass and become law by this fall, according to NPR.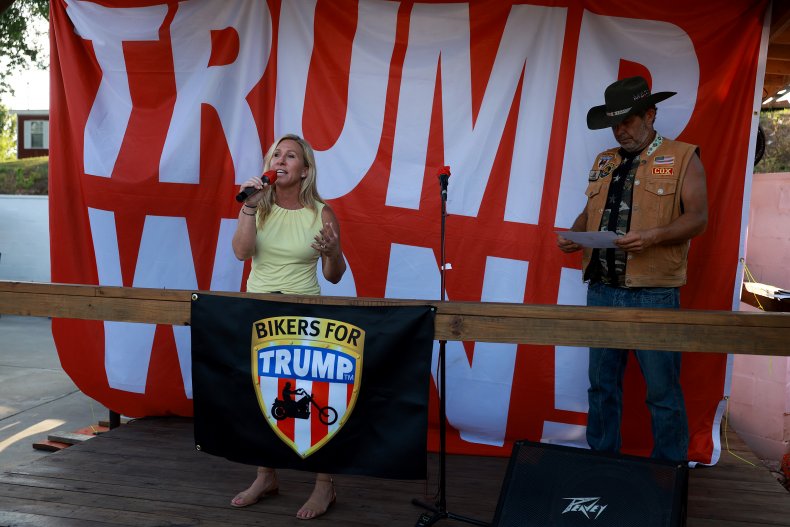 Greene is not the only U.S. conservative to express strong disapproval of the proposed ban. Some, such as Republican Representative Thomas Massie of Kentucky, have suggested that a similar ban could soon be "coming to America," leading to a "dystopian future."
However, White House Press Secretary Karine Jean-Pierre said that President Joe Biden "does not support a ban on the sale of all handguns" during a press briefing on Tuesday, while the U.S. Constitution's Second Amendment could make such a proposal all but impossible even if the political will for one existed.
"This is the phantom menace," Duke University law professor Joseph Blocher told Newsweek on Tuesday. "The idea of handgun prohibition is nowhere near the political agenda in the mainstream in the United States—hasn't been for decades."
"The Supreme Court has been clear that the Second Amendment protects the fundamental right to have a handgun in the home for self-defense," he added. "So even if handgun prohibition were politically feasible, the courts will strike it down."
Newsweek reached out to the offices of Greene and Trudeau, as well as the White House and the Canadian Embassy in Washington, D.C., for comment.