Representative Marjorie Taylor Greene has advised protesters to dress appropriately, in reaction to a recent incident at a drag queen story time event at a library in California.
Greene, a Republican who represents Georgia's 14th district, offered the advice on her podcast on Friday and showed a tweet featuring a man who had been involved in the protest.
The man was wearing a t-shirt that showed what appeared to be a semi-automatic weapon and the phrase "Kill your local pedophile," which Greene suggested was not a helpful way for protesters to be dressed.
Police believe a group of men who stormed the event at the San Lorenzo Library in East Bay, San Francisco on June 11 may be members of the far-right group Proud Boys. The men reportedly shouted anti-LGBT slurs.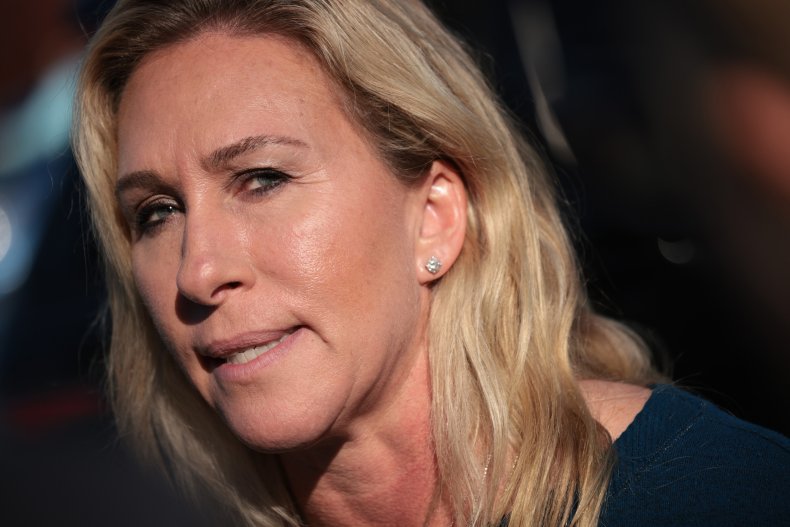 "This is one of the Proud Boys," Greene said. "They went and protested a drag queen story time and they disrupted the story time and now you can see that the sheriff's department there [is] opening a hate crime investigation into the protest against the drag queen story time."
The Alameda County Sheriff's Office is investigating the incident as a potential hate crime but no charges have been brought. The protesters reportedly yelled "tranny" and "pedophile" during the incident.
Greene focused on the attire of the man pictured in the tweet.
"Well, this guy and his t-shirt sure do make it easy to create a profile of people that would go in and want to stop a drag queen story time," she said.
"Clearly, the shirt is something that they can use to make anyone who would want to stop a drag queen story time look dangerous, maybe look like they're trying to kill someone even though, clearly, none of us would support pedophilia in any way and definitely would want to stop pedophilia," Greene said.
"But you can see the imaging problem here," the Republican went on.
"So just as you would go in and you would want to look good for a job interview or you would want to dress appropriately if you would want to, you know, anyone where you wanted to look respectful and you wanted people to think good things about you," Greene said, and then advised people to dress well when protesting, attending school board meetings or meeting elected officials.
"I would suggest that you dress appropriately," she said. "Do not give these people any reason to turn you into something you're not."
The drag queen story time event at San Lorenzo Library was held for pre-school age children as part of Pride Month.
Democratic Representative Eric Swalwell of California's 15th district and who represents the area concerned, condemned the disruption at a meeting on Thursday.
"To the Proud Boys, what I tell you today is you have nothing to be proud of for what you did to children. It would be a compliment to call you boys because you acted like babies," Swalwell said.