Proud Boys Disrupt Drag Queen Story Hour at Public Library: Sheriff
A group of Proud Boys members on Saturday aggressively disrupted a drag queen event being held for children and families at a public library, local sheriff deputies reported.
The incident began around 1:30 p.m. at the San Lorenzo Library in Alameda County, California. Members of the notorious right-wing white nationalist organization stormed the event being hosted by the group, Drag Queen Story Hour, which organizes family-friendly readings hosted by drag queens all over the country.
The members, some wearing shirts with AK-47s on them, yelled out numerous homophobic and transphobic slurs, and accused the event's hosts of being "pedophiles." Alameda County Sheriff's Lieutenant Ray Kelly confirmed the incident to a local reporter, Joe Fitzgerald Rodriguez, explaining that the individuals were escorted out of the library by deputies.
One of the hosts of the event, Kyle Casey "Panda Dulce" Chu, described the event in an Instagram post, and estimated that eight to 10 Proud Boys members were involved, and seemed prepared to get violent. Chu said that the hosts went and locked themselves in a backroom while the library staff called police. When deputies arrived to escort them out, Chu said that the protestors formed lines and attempted to block entrances. Once they were gone, the hosts were able to resume and finish the event.
Kelly confirmed to Rodriguez that the sheriff's office is currently investigating the incident as a potential hate crime. Resources are also being dedicated to protecting the local LGBTQ+ community in the county as Pride Month continues.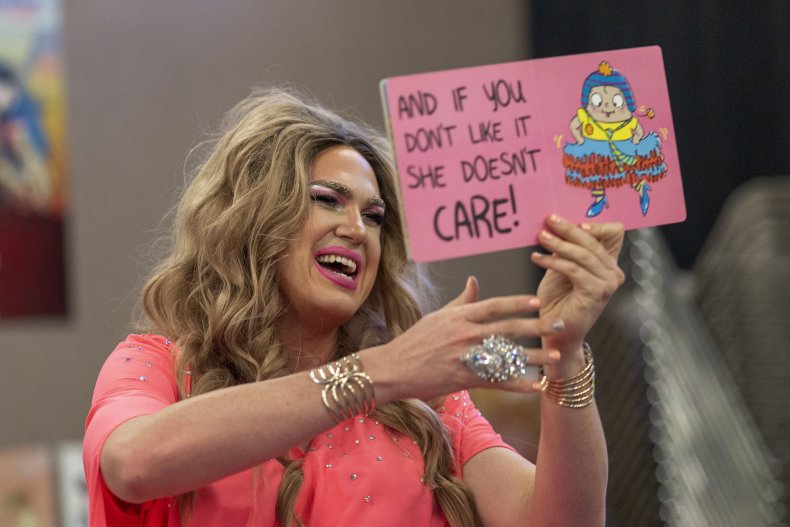 "We will make sure any future events at the library are safe against hate speech and threats of violence," the lieutenant said. "As we celebrate Pride Month, we will be swift in our response to any incidents where there are threats to harm members of this community."
Drag queen shows have recently become a prominent talking point among Republican lawmakers in recent months. In Texas, state Representative Bryan Slaton proposed a law banning children from attending drag shows, referring to drag queens as "perverted adults." In Florida, Governor Ron DeSantis has proposed using Child Protective Services to investigate adults who bring children to such shows.
"For a group that claims to 'protect children,' [it] loves to disrupt children's events with homophobia and transphobic slurs, yelling, screaming, inciting violent threats, traumatizing children and their families," Jonathan Hamlit, executive director at Drag Queen Story Hour, said in a statement to Newsweek. "Unfortunately, experiencing hate and sometimes violence is a daily experience for queer people. It's shocking and salacious in the media, but it's a hard part of being in the LGBTQ+ community."
Another Drag Queen Story Hour event was almost disrupted this week in Apex, North Carolina, after festival organizers reported receiving violent threats from the community. Despite the setback, the event eventually went forward with new organizers, Equality NC.
"We like to show kids, not only who may be queer now or grow up to be queer, that they are surrounded by people like them, but also show kids that are going to grow up to be advocates and allies how to be those strong advocates and allies," organizer Elise Chenoworth said in a statement, according to local news station CBS 17.
This article was updated with a statement from Drag Queen Story Hour.