Marjorie Taylor Greene has suggested—without evidence—a link between shootings and medication, following mass shooting in Highland Park, Chicago, on July 4.
Representative Greene, the Republican from Georgia, on Monday tweeted an FBI wanted poster for Robert E. Crimo III, the 22-year-old named a "person of interest" over the shootings at a Fourth of July parade that left at least six dead and 30 injured. Crimo was arrested later that day.
"Is this going to be another story where some crazy manifesto will be found? Greene wrote. "Are we going to be told every 'weapon of war' and amount of ammo he bought yet the public won't be told his prescription drug history or recreational drug history."
Police have released limited information about Crimo, who had not been charged early morning Tuesday. His potential use of medication is not known.
"When are we going to have an honest conversation about drug abuse, mental illness, and SSRI's??? And deadly side effects." Greene asked in the tweet, referring to selective serotonin reuptake inhibitors—drugs typically prescribed to treat depression.
SSRIs "are often used as first-line pharmacotherapy for depression and numerous other psychiatric disorders due to their safety, efficacy, and tolerability," according to the National Center for Biotechnology Information.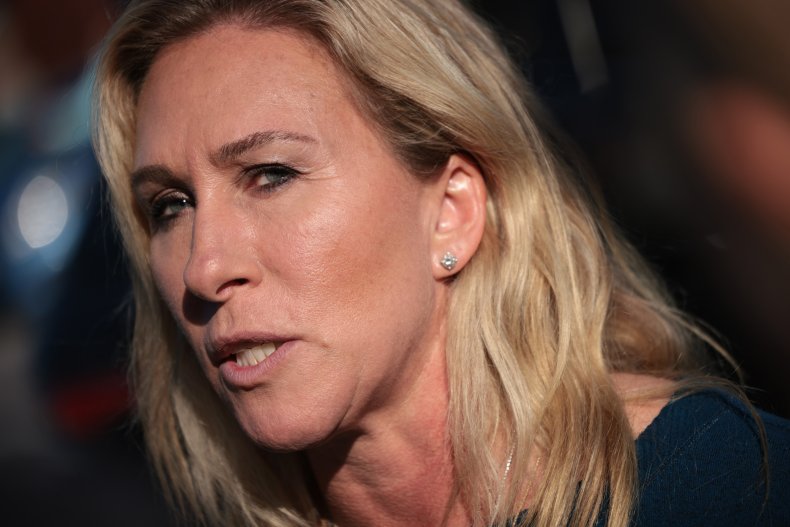 The drugs' widespread use is "due in part to their relatively fewer side effects than prior commonly used antidepressants," NCBI adds, noting the are not entirely risk free.
"Common side effects from SSRIs include sexual dysfunction, sleep disturbances, weight changes, anxiety, dizziness, xerostomia [dry mouth], headache, and gastrointestinal distress," the article said.
Several pharmaceutical companies produce SSRIs. Newsweek has asked some of the leading manufacturers about Greene's comments.
In other tweets, Greene added that Crimo's weight, estimated by police as 120 pounds, was "absolutely not normal" for someone thought to stand 5-feet 11-inches tall.
"What was he on?" Greene asked, demanding more information on Crimo be released.
"Drug history, prescription drug history, mental health history, school records, arrest records, how many times he talked with LE or FBI? Everything," she wrote. "Is everyone to afraid to talk about side effects?"
Greene added: "Are we really going to keep pretending? Or covering for Big Pharma? Because I'm absolutely done with the political plays on this BS."
Marjorie Taylor Greene's office and Highland Park Police Department have also been contacted for comment.