Republican Representative Marjorie Taylor Greene of Georgia has denounced President Joe Biden for taking a "victory lap" after the death of Al-Qaeda leader Ayman al-Zawahiri.
Biden confirmed on Monday that al-Zawahiri, who had led Al-Qaeda since Osama bin Laden's 2011 death at the hands of U.S. Navy SEALs, was killed over the weekend in a U.S. drone strike. The president, who is currently in isolation due to the recurrence of a positive COVID-19 test, said during a speech from the White House balcony that al-Zawahiri had been instrumental in planning the attack of September 11, 2001, and the bombing of the USS Cole in 2000 and maintained that "justice has been delivered" with his death.
Greene quickly took to Twitter to lash out at Biden for attempting to "act tough on TV" by speaking on the death, arguing that "most Americans" were either unaware of the leader or had "forgotten" about Al-Qaeda and al-Zawahiri, despite the group being behind 9/11—the largest-ever terrorist attack in U.S. history. She suggested that Biden should have instead focused on issues including the botched U.S. withdrawal from Afghanistan, a so-called "proxy war with Russia" and high inflation rates.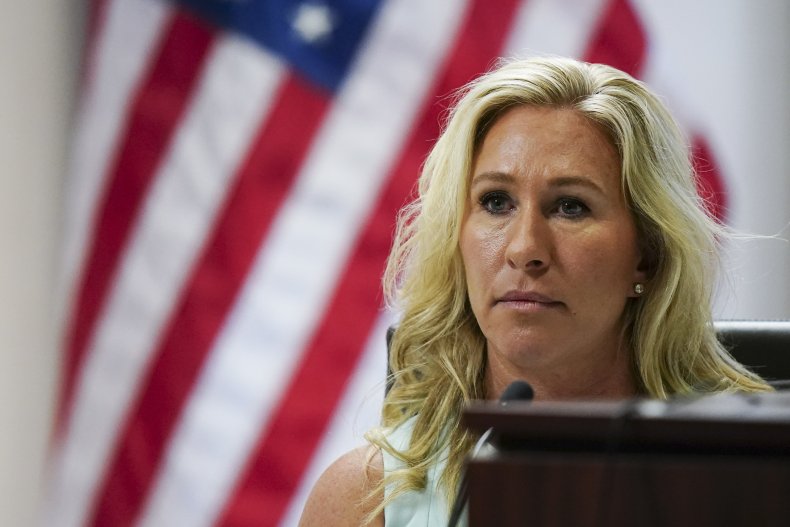 "Al Qaeda leader Zawahiri has been killed in a CIA led air strike," Greene tweeted. "Zawahiri is credited in planning 9-11 & attack on the USS Cole, but most Americans don't know or have forgotten who he is, but once they know they will be glad he's dead. But Joe's victory lap is ridiculous... It's absurd Joe is going to try to act tough on TV."
"No one in America has been sweating an attack from Al Qaeda lately or even heard a thing about them, but Americans are extremely stressed about affording groceries, gas, & the Democrats big tax hike coming soon," she added. "But they have to roll Joe out on TV tonight while he's Covid positive again so he can talk big without blinking."
Greene went on to suggest that White House staff should "put Joe to bed early with a dose of [ineffective and unproven COVID-19 treatment] Ivermectin."
Newsweek reached out to the White House for comment.
Although the congresswoman said that few were currently "sweating" the possibility of an attack from Al-Qaeda, the U.S. intelligence community still considers the organization to be one of the largest threats to overseas American interests.
"ISIS, al-Qa'ida, and terrorist aligned with Iran such as Lebanese Hizballah, probably pose the greatest threat to U.S. persons and interests abroad," states the 2022 Annual Threat Assessment of the U.S. Intelligence Community. "Al-Qa'ida remains intent on striking U.S. interests; it is more capable of striking U.S. interests in regions where its affiliates operate rather than in the Homeland."
Al-Zawahiri, an Egyptian-born surgeon and early mentor to bin Laden, was killed following a Saturday morning strike on a Kabul, Afghanistan, safehouse, which Biden said Monday had been conducted "at my direction."
"Now, justice has been delivered and this terrorist leader is no more," Biden said. "People around the world no longer need to fear the vicious and determined killer... No matter how long it takes, no matter where you hid, if you are a threat to our people the United States will find you and take you out."