Marjorie Taylor Greene Says Anti-COVID Efforts Should Focus More on Obesity, Less on Vaccine
Republican Georgia Representative Marjorie Taylor Greene said that door-to-door COVID-19 vaccination efforts should focus more on obesity.
"If we're going to talk about going door-to-door to ask people if they've had the vaccine and offer it, then we should definitely talk to people about how to reduce obesity to get rid of ... the number-one risk factor that can lead to hospitalization or death," she said during her Tuesday news conference inside her Washington D.C. office.
"This is also an issue that leads to many other medical problems, as well as high costs and health care, so I think this is something that people should be talking about," she added.
Greene even went as far to agreeing with former first lady Michelle Obama in the bout to fight childhood obesity.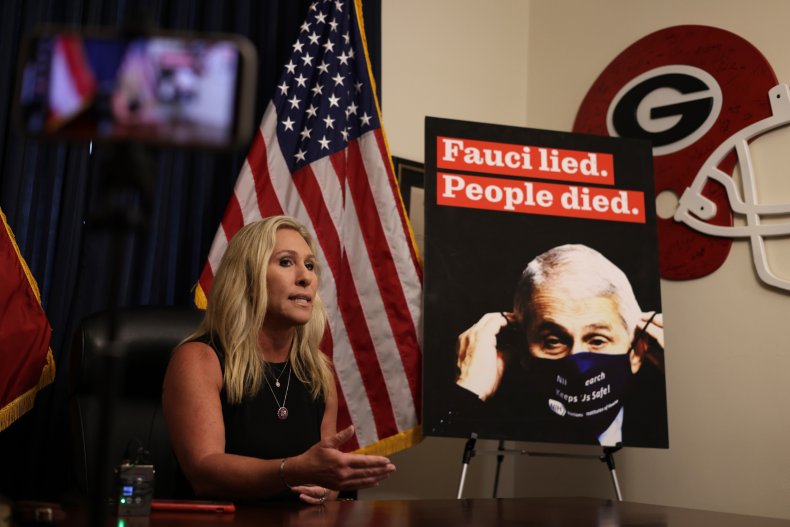 Greene held the conference to discuss Twitter's recent 12-hour ban against her for violating its policy on posting misleading COVID-19 information. One of the weekend tweets that got her banned claimed that the COVID-19 "was not dangerous for people under the age of 65 who are not obese."
The virus has killed 142,241 people under the age of 65, according to data from the U.S. Centers for Disease Control and Prevention (CDC). The deaths represent 23.7 percent of the 598,624 total COVID-19-related deaths reported in the U.S.
Later on in the conference, Greene said that 78 percent of people hospitalized with COVID-19 were obese. While she didn't mention her source, she may have been referring to the CDC's March 8 Morbidity and Mortality Weekly Report. The report said that among 71,491 U.S. adults who were hospitalized with COVID-19, 27.8 percent were overweight and 50.2 were obese.
The CDC has stated that obesity increases the risk of severe illness from COVID-19 and that obesity may triple the risk of hospitalization due to a COVID-19 infection.
When asked what she would do to address obesity among adults, Greene mentioned that she used to own a gym. She said that she had heard "success stories" of people using exercise and healthy eating to lose weight during the pandemic. She also said that schools could help teach "healthy eating habits and good exercise programs" so that "kids become adults with good lifelong habits."
"I am for people getting the vaccine, if they choose to, and I'm for people not getting the vaccine if they choose to," Greene said at the conference. "But I think it has to be a choice, and not a mandate, not mandated by schools, not mandated by businesses and not mandated by the government."
Newsweek contacted Greene's office for comment.