Marjorie Taylor Greene Says God Will Provide for Pregnant Women
Pregnant women will be provided for by God, Representative Marjorie Taylor Greene said Tuesday as the nation continues to grapple with the aftermath of the Supreme Court's overturning of Roe v. Wade last week.
Greene, a Georgia Republican, wrote a lengthy Twitter thread in response to a press release issued Monday by House Speaker Nancy Pelosi. In the release, Pelosi condemned the Court's "tragic" decision and provided details on avenues House Democrats are "exploring" to protect access to abortions in the U.S.
"If you are pregnant, God made you completely capable to be a mother, and he will provide for you, as you strive in life and become a mother," Greene tweeted in her response. "Motherhood will be the most incredible journey of your entire life, bringing you continuous joy you've never known."
While Republicans like Greene have celebrated the ruling, critics of the Court's controversial action have voiced outrage and frustration over the rollback of federal abortion rights nearly 50 years after the landmark Roe decision. Some have also pointed out that the U.S. doesn't have systems and services in place that would support pregnant women who may now have no choice but to give birth.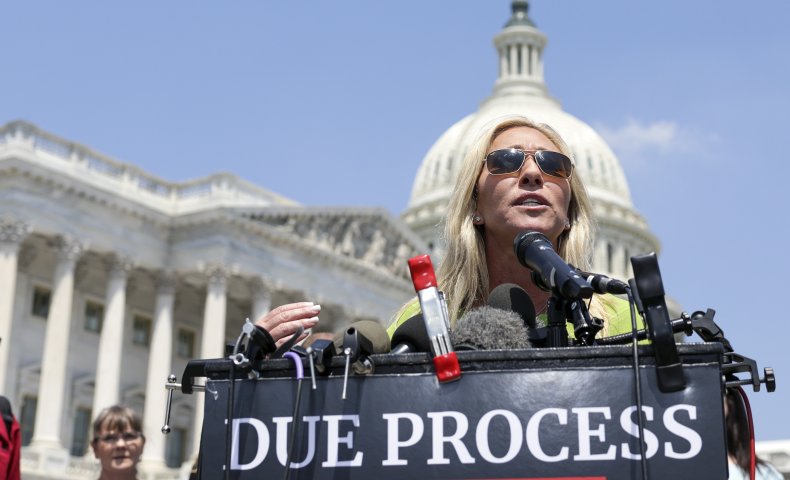 Former Labor Secretary Robert Reich tweeted on June 24, the day the Court issued its opinion in the Dobbs v. Jackson Women's Health Organization case while also overturning Roe, that the U.S. lacks universal health care, universal child care and paid family and medical leave. He also noted that the U.S. has one of the highest maternal mortality rates among wealthy nations.
"This isn't about 'life.' It's about control," Reich wrote.
The Commonwealth Fund, a foundation that supports research on health care issues, compared U.S. maternal mortality rates in 2020 to 10 other high-income countries. It found that women in the U.S. were most likely to die from pregnancy or childbirth complications.
In her Twitter thread Tuesday, Greene wrote about what she said was the "secret" to navigating life as a mother.
"Life will not be perfect. It never is," she wrote. "But God's love for you is perfect and you will grow a love inside you for your child that you never knew was possible. This love for your child, another person, another human life, is the greatest gift. Choose love. Choose life!"
Higher up in the thread, Greene wrote that Pelosi thinks "deceiving women" is the only way for Democrats to win in November's midterm elections.
"Women, God made you. He loves you more than anyone you have ever known can possibly love you," Greene said in another tweet. "He never wanted you to be hurt by anyone. That was never his plan. Your pain and suffering is a result of the devil's schemes. The devil hates you."
Newsweek reached out to Greene and Pelosi for comment.