Marjorie Taylor Greene: Abortion Isn't Over, You Can Still 'Murder Babies'
The Supreme Court may have overturned Roe v. Wade, but abortions in the U.S. are by no means over, Representative Marjorie Taylor Greene said Friday.
Greene, a Georgia Republican, posted a video on Twitter showing her celebrating and speaking about the Court's decision, which she called a "miracle." But she pointed out that the ruling in Dobbs v. Jackson Women's Health Organization, the case considered by the Court in its decision to overturn Roe, is not a nationwide ban on abortion.
"The Supreme Court through the Dobbs decision overturned Roe v. Wade," Greene said. "That means that it goes back to the states and they have the right to make their own abortion laws, whether they completely outlaw abortion in their state or they allow it to occur at some level. Everyone needs to understand it's not totally over."
Pointing to a nearby group that was not visible in the video, she went on, "We have people over here that are screaming, demanding to be able to murder babies, but they still can do it. So what they're demanding hasn't been taken away from them. They can still kill a baby in the womb."
The Court's official decision came after a draft opinion that was leaked in early May showed that the conservative majority was poised to overturn Roe nearly 50 years after the landmark ruling legalized abortion. After the decision was released Friday, Missouri became the first state to invoke a trigger law (or preemptive ban), which allows a state to quickly prohibit or limit abortion access.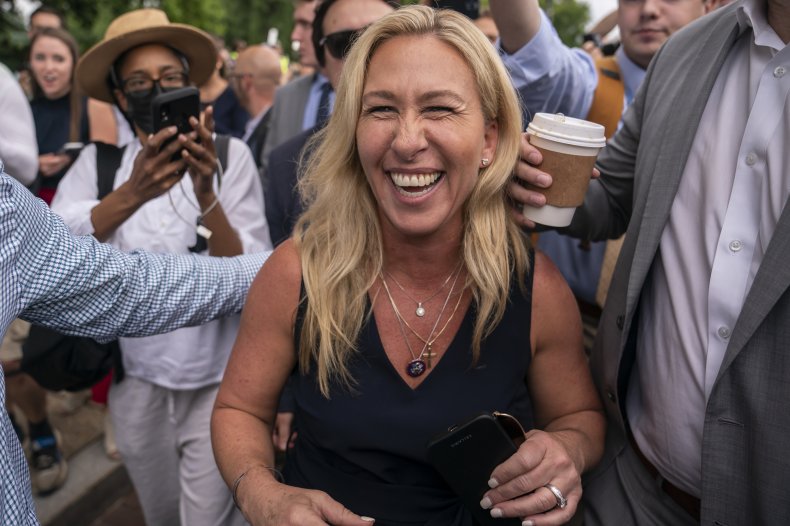 Even though abortions are not prohibited nationwide under the Dobbs decision, Greene was jubilant over the end to federally legalized abortion.
"I think it's a miracle. I'm so thrilled, like I've cried about this," she said in the video. "Everybody here is celebrating that the Supreme Court had the courage, they had the bravery, overturning Roe v. Wade, giving it back to the states."
Greene added that she hopes the Dobbs decision "can be the beginning to the end of abortion."
"I think we know God is real, and I think we know that prayer works, and I'm just so overjoyed," she said.
Greene, a vehement opponent of abortion rights, praised the Court's leaked draft opinion in May. In a speech last month that was posted on her Twitter page, she said women who do not want to become pregnant should "abstain" from sex instead of getting an abortion.
"Women need to make better choices," she said. "If we want to be women who make choices, here's one thing you can choose. If you don't want to become pregnant right now, choose to not have sex."
Newsweek reached out to Greene's office for further comment.