Marjorie Taylor Greene Says Maxine Waters 'Incited Riots,' Calls for Her Expulsion From Congress
Representative Marjorie Taylor Greene is calling for Representative Maxine Waters' expulsion from Congress after the congresswoman traveled to Brooklyn Center, Minnesota, to join crowds protesting the police shooting of Duante Wright.
Greene accused the Democrat of inciting riots in Minnesota, while pointing out that Waters represents California's 43rd congressional district.
"You crossed state lines and incited riots, violence against police, shootings at the MN NG, and threatened a jury as a sitting US Congresswoman," Greene wrote in a Sunday night tweet addressing Waters.
"@SpeakerPelosi surely you will expel this criminal from Congress and uphold the law!" the Georgia Republican tweeted, along with a photo of the U.S. Criminal Code that states those who travel to incite, participate or aid a riot are subject to fines and/or prison time under section 18.
On Saturday, Waters joined hundreds of Black Lives Matter protesters on a seventh night of demonstrations as crowds gathered around the police department in Brooklyn Center around the area's 11 p.m. curfew.
Protesters are demanding heavy charges against former Brooklyn Center police officer Kim Potter, who fatally shot Wright during a routine traffic stop on April 11.
Waters spoke to the crowd, telling them she supported the calls for murder charges against Potter and advising the city to avoid settling for charges of manslaughter.
The congresswoman pledged to "fight with all of the people who stand for justice," and called on others to join her, saying, "We've got to get justice in this country, and we cannot allow these killings to continue."
Her comments came just before the closing arguments in the trial of Derek Chauvin, the former Minneapolis police officer who is accused of murdering George Floyd. The trial of Floyd's murder is taking place just a few miles from Brooklyn Center, where protesters have gathered in the wake of Wright's death for the past week.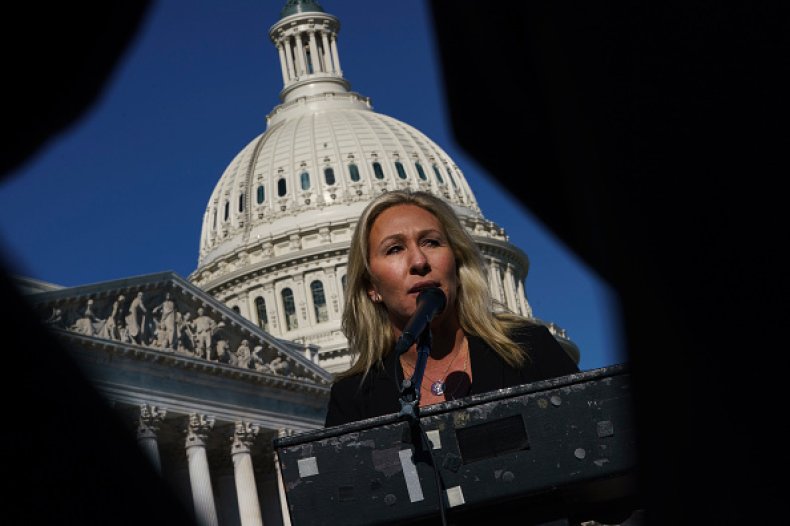 On Sunday, Greene announced that she would introduce a resolution to expel Waters arguing that the congresswoman "incited Black Lives Matter domestic terrorists to fire gun shots at National Guardsmen in Minnesota."
"After traveling across state lines to incite riots, her orders recorded on video last night at the Brooklyn Center, directly led to more violence and a drive by shooting on National Guardsmen in Minnesota early this morning," a statement from Greene reads.
"As a sitting United States Congresswoman, Rep. Maxine Waters threatened a jury demanding a guilty verdict and threatened violence if Chauvin is found not guilty. This is also an abuse of power," the statement continues.
Greene is not the only Republican to slam Waters for her participation in the protests. She was joined by House Minority Leader Kevin McCarthy, who is also calling for Waters' expulsion.
"Maxine Waters is inciting violence in Minneapolis — just as she has incited it in the past. If Speaker Pelosi doesn't act against this dangerous rhetoric, I will bring action this week," McCarthy tweeted on Sunday.
Senator Ted Cruz and Representatives Lauren Boebert and Ken Buck also criticized the Democrat for joining protests in Minnesota, and accused her of inciting violence.
In reference to Waters' attendance, Cruz tweeted that "Democrats [are] actively encouraging riots encouraging riots & violence."
"Why is Maxine Waters traveling to a different state trying to incite a riot? What good can come from this?" Boebert asked on Twitter.
Buck agreed, writing, "Why is a sitting member of Congress encouraging protesters to get 'confrontational?'"
Newsweek reached out to Waters for comment, but did not hear back before publication.